Inside Electrician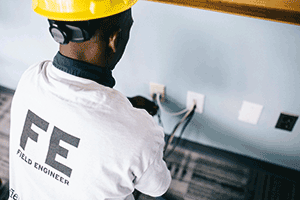 Trade Coordinator: Andie Anderson
The application process is open year-round with a closure in the summer and winter for two weeks.
Application Opening Announcement (January 2023)
For the Inside Electrician, please make sure you meet the minimum requirements to apply:
You must be at least 18 years old
Have a high school diploma or GED® certificate
Must also document proof of successful completion of one year of high school algebra or equivalent post-high school algebra course(s) with a grade of "C" or better.
Completion of the National Career Readiness Certificate (contact your local Worksource Rogue Valley office to register).
Applications can be picked up at the following locations:
Rogue Community College Table Rock Campus at 7800 Pacific Avenue, White City OR 97503 in room 159.
Applications can also be picked up at two of our training agents only on Tuesdays between the hours of 8:30 a.m. and 11:30 a.m.
Precision Electric at 425 N. Front St., Medford OR 97501
Pro Electric at 1544 Dowell Rd., Grants Pass OR 97527
Pick up an application at the location closest and convenient for you. Please be sure to sign the Applicant Log. You will turn in an application at the same location you picked it up at.
Documentation must also be attached when you turn in your application showing you meet each of the minimum qualifications.
Training Requirements
See what courses are needed to complete an Inside Electrician Apprenticeship at RCC on our Program Maps:
Reminders and Next Steps:
Applications will be turned back in completed and have attached documentation of minimum qualifications met.
Incomplete applications and applications that do not meet the minimum requirement will not be considered for an interview.
Applicants who meet minimum requirements will then be notified of an interview.
Applicants will then be placed in the ranked pool of eligible applicants – placement is determined by points obtained in the interview.
Applications and making the list of the ranked pool of eligible applicants does not ensure instant employment. Please do not quit any job or turn down possible employment while you are waiting to be called by a training agent!
The Training Program
The Inside Electrician is a 4-year program with a total amount of 8,000 on-the-job-training hours.
144 hours of related classroom training are required each year of enrollment in the training program, for a total of 576 hours to complete.
Examples of some topics included in related training classes include:
Electrical mathematics
Safety and accident prevention
Care and use of hand and power tools
Blueprint reading and electrical symbols
Among other topics
With the Inside Electrician program, you also have the option to pursue an Associate degree or certificate in Electrician Apprenticeship Technologies just by taking a few General Education courses in addition to all the required electrician classes you will take once you are placed with a training agent. If you are interested in this, please reach out to Katelyn at the contact information below.
Katelyn Bender
Program Support Specialist III
Apprenticeship Dept.
Rogue Community College
Phone: (541) 956-7186
Email: [email protected]
---