Sign Electrician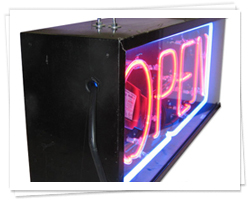 Trade Coordinator: Andie Anderson
Job Description
Sign Electricians install, wire, service and repair electrical signs.
Minimum Requirements
High School Diploma or GED®
One year of high school algebra/integrated math 2 with a "C" or better (or equivalent)
Must be at least 18 years of age
Local apprenticeship committee may require additional qualifications.
The Training Program
See what courses are needed to complete a Sign Electrician Apprenticeship at RCC on our Program Maps:
Working Conditions
The work is done indoors and outdoors. Work spaces can range from outdoor signs to crawl spaces inside signs.
Recommended High School or College Courses:
Average Journey Pay
$29.33 per hour
Related Training
The apprenticeship agreement combines both the on-the-job experience and classroom related training instruction over a period of four years. A minimum of 144 hours of related training per year is required along with 8,000 hours of on the job training.
Visit the following links for further information:
---