Limited Maintenance Electrician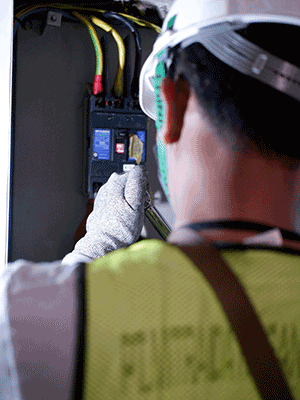 Trade Coordinator: Andie Anderson
Job Description
Limited maintenance electricians maintain, repair and replace electrical installations on the premises of industrial plants where the individual is employed, or on electrical systems that are less than 600 volts phase to phase on the premises of commercial office buildings or buildings occupied by the state or a local government entity where the individual is employed.
Qualifications
High School Diploma or GED®
Minimum of one year of high school mathematics with a grade of 'C' or better (or equivalent)
Must be at least 18 years of age
Local apprenticeship committee may require additional qualifications.
Training Requirements
See what courses are needed to complete an Limited Electrician Apprenticeship at RCC on our Program Maps:
Working Conditions
This work can be dirty and strenuous, with considerable standing, bending and reaching. Tools used include electrical metering devices, cable pulling devices, electrical hand tools, soldering tools, hammers, drills and side cutters. Hazards include electric shock, burns, falls and falling objects.
Average Journey Wage
$23.87 per hour
Recommended High School or College Courses:
---
Related Training
This apprenticeship lasts about two years. Apprentices must complete a minimum of 144 related classroom hours per year and a total of 4,000 on-the-job training hours.
---
Visit the following links for further information:
---