Airframe/Power Plant Mechanic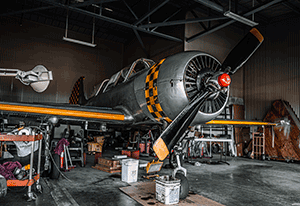 Trade Coordinator: Andie Anderson
Job Description
Airframe and power plant mechanics adjust, align, and calibrates aircraft systems, using hand tools, gauges, and test equipment. Disassemble and inspects parts for wear, warping, or other defects. Services and maintains aircraft systems by performing tasks, such as flushing crankcase, cleaning screens, greasing moving parts, and checking brakes. Removes engine from aircraft or installs engine, using hoist or forklift truck.
Qualifications
Must be at least 18 years of age with a high school diploma or a GED® certificate
Local apprenticeship committee may require additional qualifications.
Training Requirements
See what courses are needed to complete an Air Frame/Power Plant Apprenticeship at RCC on our Program Maps:
Working Conditions
The work is done primarily indoors, but often requires working in confined spaces. The working environment varies depending on the type of job. The work can require considerable standing, bending, reaching and lifting and may be conducted in cramped spaces or at heights and using hoists or forklifts.
Average Journey Wage
$24.00 per hour
Recommended High School or College Courses:
Related Training
The apprenticeship agreement combines both the on-the-job experience and classroom related training instruction over a period of approximately two and a half years. A minimum of 176 hours of related training per year is required along with 4,812 hours of on the job training.
Visit the following links for further information:
---