English as a Second Language (ESL/ELA)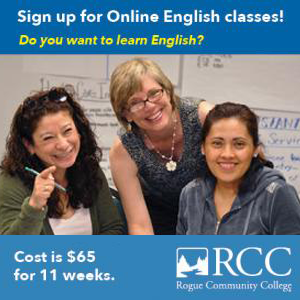 The ESL program at Rogue Community College is here to help you expand your English language skills. We have multiple levels (beginner through advanced), English for work, school, and functioning in the community. Classes are fun, convenient, and only $65 per term to attend. In-person, online, now is your time!
Questions? Please contact Alondra Esquivel: 541-956-7169, [email protected]
Main Office: 541-956-7490
---
Inglés como Segundo Idioma
El programa de ESL en Rogue Community College está aquí para ayudarlo a desarrollar sus habilidades en el idioma inglés. Tenemos varios niveles (de principiante a avanzado), inglés para el trabajo, la escuela e involucrarse en la comunidad. Las clases son divertidas, convenientes y solo $65 por trimestre para asistir. Presencial, en línea, ¡ahora es su momento! 541-956-7490 | [email protected]
ESL/ELA FAQ
First, you must attend an orientation and placement testing.
To see upcoming orientations click here to sign up, or call 541-956-7169, or email [email protected].
Orientations generally happen 1-2 months before the next term starts.
After you attend the orientation and testing, we can register you for classes.
Primero, debe asistir una orientación y tomar un examen de ver en cual nivel debe empezar.
Para ver las próximas orientaciones, haga clic aquí para registrarse, o llame al 541-956-7169, o envíe un correo electrónico a [email protected].
Las orientaciones generalmente ocurren 1-2 meses antes de que comience el próximo trimestre.
Después de asistir a la orientación y tomar el examen, podemos registrarlo para las clases.
An orientation is an information session where we give program details, upcoming course offerings, and students take the CASAS/Best Plus assessments (tests) to get registered for classes.
Una orientación es una sesión de información en la que brindamos detalles del programa, próximas ofertas de cursos y los estudiantes toman las evaluaciones (examenes) de CASAS/Best Plus para inscribirse en las clases.
$65 a term.
You can take multiple classes in the program and the cost is still $65 total.
Class fee waivers are available. Please contact us for details.
$65 por trimestre.
Puede tomar varias clases en el programa y el costo sigue siendo de $65 en total.
Hay exenciones de tarifas de clase disponibles. Por favor, contáctenos para más detalles.
After you have attended orientation and testing, you will get a student ID number.
You will need your student ID number to pay for classes.
You can pay with cash, card, check, or money order. In-person and online options for payment are available.
Payments are usually due by week 2 of the term.
Please contact [email protected] for specific instructions on how to pay.
Después de haber asistido a la orientación y tomar el examen, obtendrá un número de identificación de estudiante.
Necesitará su número de identificación de estudiante para pagar las clases.
Puedes pagar con efectivo, tarjeta, cheque o giro postal. Están disponibles opciones de pago en persona y en línea.
Los pagos generalmente vencen en la segunda semana del trimestre.
Póngase en contacto con [email protected] para obtener instrucciones específicas sobre cómo pagar.
At orientation, you will take an assessment (CASAS or BEST Plus). This score will help to place you in the appropriate level.
Returning students will also have teacher recommendations for class selections.
En la orientación, tomará una evaluación (CASAS o BEST Plus). Esta puntuación ayudará a ubicarse en el nivel adecuado.
Los estudiantes que regresan también tendrán recomendaciones de sus maestros para la selección de clases.
CASAS is an assessment completed on the computer and BEST Plus is an oral assessment.
Our program requires students to take an assessment of their language skills (usually once a term).
Taking these assessments help to show student's progress and help to secure funding for our program to continue to operate.
CASAS es una evaluación realizado en la computadora y BEST Plus es una evaluación oral.
Nuestro programa requiere que los estudiantes realicen una evaluación de sus habilidades lingüísticas (generalmente una vez por trimestre).
Tomar estas evaluaciones ayuda a mostrar el progreso del estudiante y ayuda a asegurar los fondos para que nuestro programa continúe operando.
We have ESL core classes (levels 1-4). Generally, core classes are offered in the morning (9am-12pm) and night (5:30pm-8:30pm) on Tuesdays, Wednesdays, and Thursdays.
We also offer elective classes. Example classes include (but may not be offered every term):

Multi-level, Citizenship, College and Career Exploration, College and Career Writing, College and Career Pathway Prep, Healthcare Career Prep, Study Lab, Digital Literacy, and more. Some courses may require a minimum CASAS score.

We also offer GED® classes in Spanish at night - two nights a week.
Please contact us for the current or upcoming schedules.
**We have in-person and online options. Please contact us for the current offerings.
Tenemos clases básicas de ESL (niveles 1-4). Por lo general, las clases básicas se ofrecen por la mañana (9 AM a 12 PM) y por la noche (5:30 PM a 8:30 PM) los martes, miércoles y jueves.
También ofrecemos clases electivas. Ejemplos de las clases incluyen (pero es posible que no se ofrezcan todos los trimestres):

Multi-nivel, Ciudadanía, Exploración universitaria y profesional, Escritura universitaria y profesional, Preparación universitaria y profesional, Preparación profesional en atención médica, Laboratorio de estudios, Alfabetización digital y más. Algunos cursos pueden requerir un puntaje mínimo de CASAS.

También ofrecemos clases de GED® en español por la noche - dos noches a la semana.
*Por favor contáctenos para los horarios actuales o próximos.
**Tenemos opciones presenciales y en línea. Por favor contáctenos para las ofertas actuales.
For any Zoom class, we strongly recommend that you use a laptop or tablet to access your online class.
For in-person classes, a computer is not required, but you will need to check your email frequently as this is how we communicate with students.
*The GED® and Pre-College Education program has some laptops/personal Wi-Fi devices that we can loan students. Loaner computers must be requested and returned every term and are not guaranteed.
Para cualquier clase de Zoom, le recomendamos enfáticamente que use una computadora portátil (laptop) o tablet para acceder a su clase en línea.
Para las clases en persona, no se requiere una computadora, pero deberá revisar su correo electrónico con frecuencia ya que así es como nos comunicamos con los estudiantes.
*El programa tiene algunas computadoras portátiles/dispositivos Wi-Fi personales que podemos prestar a los estudiantes. Las computadoras en préstamo deben solicitarse y devolverse cada trimestre y no están garantizadas.
No, instructors will provide all materials for students. However, instructors may provide a list of resources that students can borrow from the library for additional study.
No, los instructores proporcionarán todos los materiales para los estudiantes. Sin embargo, los instructores pueden proporcionar una lista de recursos que los estudiantes pueden tomar prestados de la biblioteca para estudio adicional.
No, there are no grades or college credits offered for our classes. However, our instructors provide individualized and continuous feedback.
No, no se ofrecen calificaciones ni créditos universitarios para nuestras clases. Sin embargo, nuestros instructores brindan retroalimentación individualizada.
Students who live in Jackson and Josephine counties are eligible for RCC's ESL/GED® Classes.

If you do not live in either of these counties, unfortunately, you might not be eligible.
You do not need a government-issued ID to attend ESL classes.
We do not ask you questions about your immigration status.
*Please contact us with any questions about eligibility.
Los estudiantes que viven en los condados de Jackson y Josephine son elegibles para las clases de ESL/GED® de RCC.
Si no vive en ninguno de estos condados, desafortunadamente, es posible que no sea elegible.
No necesita una identificación emitida por el gobierno para asistir a clases de ESL.
No le hacemos preguntas sobre su estatus migratorio.
*Por favor, póngase en contacto con nosotros si tiene alguna pregunta sobre la elegibilidad.
As an RCC student, you can:
get an RCC student ID
access the Ossie's Cupboard food pantry
get a student discount bus pass
be eligible to get financial support for short-term certificate training programs at RCC
Como estudiante de RCC, puede:
Obtener una identificación de estudiante de RCC
acceder a la despensa de alimentos Ossie's Cupboard
obtener un pase de autobús con descuento para estudiantes
ser elegible para obtener apoyo financiero para programas de capacitación certificados a corto plazo en RCC
For ESL/Spanish GED® questions, please email [email protected] or call 541-956-7169.
The main ABS office number is 541-956-7490.
Para preguntas de ESL/GED® en español, envíe un correo electrónico a [email protected], llame al 541-956-7169.
El número de la oficina principal de ABS es 541-956-7490.