Manufacturing Plant Electrician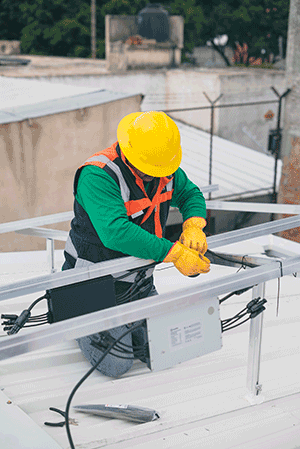 Trade Coordinator: Andie Anderson
Job Description
Manufacturing plant electricians provide basic electrical maintenance on existing equipment in factories and industrial manufacturing facilities.
Qualifications
High School Diploma or GED®
Minimum of one year of high school mathematics with a grade of 'C' or better (or equivalent)
Must be at least 18 years of age
Local apprenticeship committee may require additional qualifications.
Training Requirements
See what courses are needed to complete a Manufacturing Plant Electrician Apprenticeship at RCC on our Program Maps:
Working Conditions
The work is done primarily indoors, but often requires climbing, working on ladders, and operating mechanical lifts.
Average Journey Wage
$25.03 per hour
Recommended High School or College Courses:
Trade Skills Fundamentals-Residential Wiring
---
Related Training
Approximately 8,000 hours of on-the-job training and 576 hours of "In Class" related training are required for completion of apprenticeship.
---
Visit the following links for further information:
---