Practical Nursing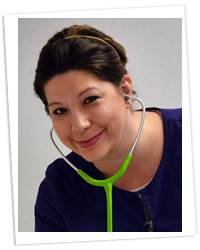 One-Year Certificate Program
Located on the Table Rock Campus, the PN program is approved by the Oregon State Board of Nursing and meets the education requirements for individuals wishing to become Licensed Practical Nurses.
Students planning to apply to the program should note the following information from the Oregon State Board of Nursing which could impact them after completion of the program:
To decrease the chance of fraud in obtaining licenses from individuals who live overseas and do not intend to work in the US or Oregon, Social Security Numbers will be required (per Oregon Revised Statute 25.785) of any applicant seeking a new CNA certificate or LPN or RN license, or seeking renewal of a CNA certificate or LPN or RN license.
Refusal to provide your SSN will result in denial of licensure/certification, and the denial will be reported to the National Practitioner Databank. US work visas (H1B, I-766 or other current federal government form authorizing you to work in the United States) will be accepted. If you are attending school on an F1 Visa, you will need to provide the OSBN with a copy of the I-94 and I-20 signed by the designated school authority at the time of your application for licensure.
Practical nurses provide individualized care in a variety of health care settings such as long-term care, hospitals, home health, doctor's offices and other community settings. Licensed practical nurses (LPNs) care for the sick, injured, convalescent and disabled under the direction of a registered nurse, nurse practitioner, licensed physician, dentist, or other independent health care provider recognized by the State Board of Nursing.
Most LPNs provide basic bedside care for clients with commonly occurring health problems with predictable outcomes. They provide personal care, take vital signs such as blood pressure, apply dressings, monitor intravenous fluids, insert catheters, and nasogastric tubes, administer tube feedings and oral and injectable medications. LPNs collect data and contribute to the establishment of nursing care plans, implement teaching plans, and evaluate clients' needs and progress.
Academic Requirements
All States require LPNs to pass a licensing examination after completing a State-approved practical nursing program. After successful completion of a nursing program, students have met the educational requirements needed to apply for the NCLEX-PN exam through the Oregon State Board of Nursing.
Salary Ranges
2018 average hourly LPN wage Jackson/Josephine counties: $24.74
2018 average annual LPN salary Jackson/Josephine counties: $51,447

Program Prerequisites
Employment Outlook
Above average
Bureau of Labor Statistics (National)
---
Contact Information for RCC students:
If you are admitted to Rogue Community College and have completed at least 12 of the Nursing prerequisites as noted on the Nursing Program Map and would like to speak with an advisor, please contact Melissa Weast.
---