Risk Management at RCC
Contact Information
Sean Taggart
Director of Risk Management
Deputy Title IX Coordinator
[email protected]
541-956-7061
Mission Statement
The Risk Management Team at Rogue Community College is dedicated to providing a safe and secure environment for all college employees, students and visitors through community collaboration, communication and diligence. We accomplish our mission by ensuring that only the highest levels of professionalism are exhibited by our team members and by treating all members of the community with respect and dignity.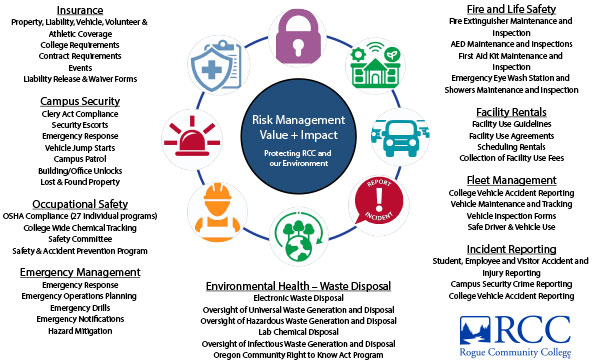 Professional Collaboration
Risk Management participates and maintains membership in the following professional organizations to increase collaboration, professional development, education, resource sharing among industry professionals
ASIS
RCC Risk Management is a member of ASIS International which is a global community of security professionals, each of whom has a role in the protection of assets – people, property and or information.

CSHEMA
RCC Risk Management is a member of CSHEMA or the Campus Safety, Health and Environmental Management Association. CSHEMA is the only organization focused entirely on serving Environmental Health and Safety professions in higher education.

RSA
RCC Risk Management is a member of the Redwood Safety Association which is a not-for-profit organization whose purpose is to provide opportunities to promote and improve safety understanding for employers, employees and the general public in Josephine County.
NACCOP
National Association of Clery Compliance Officers and Professionals to collaborate with each other, share resources and best practices, and participate in professional development opportunities to support colleges and universities in their efforts to comply with the Clery Act.
Jackson County Threat Assessment Team
Risk Management is a member of the Jackson County Threat Assessment Team. The Jackson County Threat Assessment Teams purpose is to identify possible threats before they occur within the community and to determine ways to either prevent the threat or manage the threat if it has already occurred.
ATAP
Risk Management is a member of the Association of Threat Assessment Professionals. The purpose of ATAP is to afford its members a professional and educational environment to exchange ideas and strategies to address such issues as stalking, threats, and homeland security.
Josephine County Emergency Management Board
Jackson County Local Emergency Planning Committee
RCC Incident Reports
Risk Management Areas of Responsibility
Risk Management has responsibilities for compliance and or reporting with local, state and federal regulations related to each of the agencies listed below.
Office of the Oregon State Fire Marshall
Oregon Occupational Safety and Health
Oregon Department of Environmental Quality
Oregon State Police
US Environmental Protection Agency
US Department of Education
Rogue Community College Procedures related to Risk Management
AP 6520 Security for RCC Property