Early Childhood Education
What kind of work can I do if I follow this career path?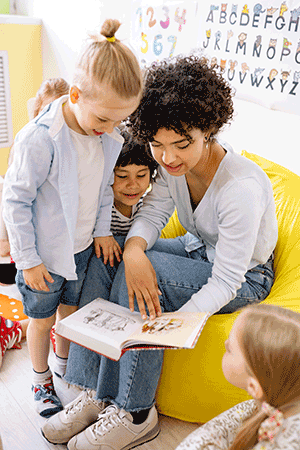 Here are some ideas depending on the certificate or degree you pursue!
Teacher Aide with Infants, Toddlers, Preschooler
Infant and Toddler Teacher
Preschool Teacher
Elementary School Teaching Assistant
After-school program Teacher or Coordinator
Salary range for certificates and degrees: $35,000-$68,000
Check out our transfer degree to achieve your Bachelors or go on for your Masters to pursue career paths like these:
Some Preschool Teaching positions now preferring Bachelor's degrees
Early Intervention Specialist (Birth to three children with developmental delays)
Early Childhood Special Education Teacher (Preschoolers with developmental delays)
Child care center Director
Child and Family Services Supervisor
Children's Community Librarian
Salary range for transfer degrees: $45,000-$75,000
What Degree/Certificate can I achieve and how much will it cost?
These are general estimates and will vary depending on the prerequisites you may need to take as well as program and textbook costs.  There are financial aid and scholarship options available.
How long will I be in school?
Our programs are flexible to meet the needs of students who are working, raising families, and just managing life. We have students who will take one or two classes at a time and we have other students who go full-time with 3-5 classes each term.
For a certificate, if you attend full time, you will be in classes 2-5 terms
For the Associate degree if you attend full time you will be in classes 6-7 terms
For the Associate degree, transfer to Bachelors degree if you attend full time you will be in classes 6-7 terms at RCC before transferring to the University
How are classes offered?
The Basic certificate can be completed entirely online. Advanced certificates and Associate degrees can be completed mostly online, but will have some in-person classes as well.
¿Tienes clases en español?
I am interested! How can I find out more or get started? 
Learn more about our programs at a free, drop-in, zoom Information Session.
1st Tuesday of every month, 1:00-2:00 p.m.
1st Thursday of every month, 5:00-6:00 p.m.
Join Zoom Meeting
Passcode: ECEE
OR take steps to get started at RCC! Admissions & Recruitment.
Coursework is based on the Standards for Professional Preparation of Early Childhood Professionals from the National Association for the Education of Young Children (NAEYC).
---