Physical Therapy Assistant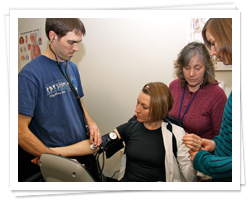 This program may be offered to future Rogue Community College cohorts and is available for Lane Community College students on the Eugene campus.
This program prepares students to function as competent entry-level Physical Therapist Assistants in a variety of practice settings and to pass the National Physical Therapist Assistant Examination administered by the Federation of State Boards of Physical Therapy and practice as a licensed Physical Therapist Assistant (PTA).
Students that would like the option to be admitted to the White City distant campus program are encouraged to apply for admission. For more information about admission, contact advisers at [email protected] and visit the Lane CC Application Information page. If you would like more information about the Lane Community College's distant campus program status, please contact [email protected].
Program Information
This Associate of Applied Science degree is awarded by Lane Community College with RCC offering program prerequisites, general education classes and related coursework. Financial aid may be available through LCC. Contact Lane's Financial Aid office for details. The program has initial accreditation status with the Commission on Accreditation in Physical Therapy Education (CAPTE). Program graduates are eligible to take the National Licensing Exam for Physical Therapist Assistants.
Students that are enrolled in the distant campus at RCC-Table Rock pay an additional $1000 per term.
Career Overview
Licensed Physical Therapist Assistants (PTAs) provide direct, hands-on physical therapy interventions for individuals recovering from illness or injury. PTAs document treatment and support the physical therapist by performing assigned routine clinical functions. PTAs are valued members of the health care team who educate and advocate for patients and families.
Job openings projected through 2018 indicate statewide openings of 34 annually. In addition to an Associate of Applied Science degree, PTAs are members of a professional and dynamic health care team, earning an average of $55,817 per year in Oregon.
Application Process
Before applying, students must complete 16 hours of observation in at least two physical therapy settings (observing a PT or a PTA) and complete all pre-requisite courses for a grade of 'C' or higher. Experience in on-line courses is highly recommended prior to applying to the program. More information about obtaining observation hours is available at: Observation Code of Conduct for Potential PTA Students. Incomplete applications or requests for application exceptions are not considered. Upon acceptance into the program, students will need to complete a criminal background check and drug screening. Observation hours should be documented using the Observation-Work Experience Form found on the LCC website, see the Application Information link below.
Links to Lane Community College Physical Therapist Assistant web pages for application:
Contacts:
LCC PTA Program Advisor, [email protected]
Christina Howard, PTA Program Coordinator 541-463-5764
---