Occupational Therapy Assistant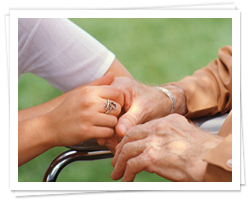 In collaboration with Linn Benton Community College (LBCC), Rogue Community College (RCC) is partnering to bring the Occupational Physical Therapy Assistant program to our region via distance education. A student wishing to study the following occupation may take prerequisite courses here at RCC, apply for the distance program, and receive the degree via distance delivery while remaining here in the local community. Below is a detailed description of this program and links to application and other information at LBCC.
What does an Occupational Therapy Assistant (OTA) do?
Occupational therapy assistants work under the direction of occupational therapists in treating patients with injuries, illnesses, or disabilities through the therapeutic use of everyday activities. They help these patients develop, recover, and improve the skills needed for daily living and working. Their goal is to help patients live more independently. Major employers include hospitals, nursing homes, schools, rehabilitation centers, and occupational therapist' offices.
Occupational outlook for OTA's
The number of jobs for occupational therapy assistants nationwide is expected to grow much faster than the average. In Oregon (2018 numbers), the annual entry-level wage for occupational therapy assistants is $38,930 per year. The average annual median wage in Oregon is $47,420, and the average top wage is $54,430. The national entry-level wage is $31,150 per year. The national median wage is $48,230 per year, and the top wage is $65,160 per year.
About the Program
An Associate of Applied Science degree is awarded by Linn-Benton Community College with RCC offering general education classes and related coursework. The program can be completed while living in the Rogue Valley. Financial aid may be available through LBCC.
How to apply
For more information, please see LBCC's Occupational Therapy Assistant website
Lorraine Lara Linn-Benton Academic Planning, 541-917-4544
---