Medical Assistant
---
What is a Medical Assistant?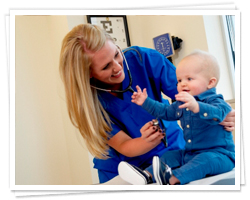 Medical assistants assist physicians in the performance of patient care, examination, and documentation. Medical Assistants perform a variety of tasks in the medical office, including but not limited to:
Clinical Tasks
Vital sign measurement
Patient medical history obtainment and documentation
Medication administration through parenteral (injection) and non-parenteral routes
Specimen collection and testing procedures
Phlebotomy (venipuncture) procedures
Electrocardiograms (ECG) and other cardiac procedures
Minor surgery assistance
Basic wound care and assist with advanced wound care
Render emergency first aid as needed
Sterile processing and procedures
Administrative Tasks
Patient scheduling
Answering and directing patient phone calls
Maintaining electronic medical records
Insurance verification
Patient check-in and check-out
Basic medical coding and billing
---
About our Program
The MA program is three terms in length (9 months) and has approximately one term of pre-requisite courses. This program is designed as a full-time, three day per week commitment. The program is offered during the workday as well as after hours as enrollment allows. This program combines online courses with comprehensive hands-on training in our eight-patient room MA lab, phlebotomy and sterile processing labs on the White City campus. In addition, there will be 254 hours spent learning in a local clinic during practicum!
There is an option to complete the program part-time or at a reduced credit load, speak with the Program Advisor for more information [email protected]!
A new cohort begins every spring and fall term for core curriculum. Prerequisites do not need to be complete to apply! Almost every student who is eligible that applies is accepted.
Click here to view the Medical Assistant Program Map.
---
Why Become a Medical Assistant?
Medical Assisting is a rewarding career that offers both flexibility and stability. This job is in high demand, with the projected 10-year growth estimated at 23.2% .
RCC's Medical Assistant program offers certification for three exams through the National Healthcareer Association (NHA) as part of our nine-month program: Certified Clinical Medical Assistant (CCMA), Certified Phlebotomy Technician (CPT), Certified ECG Technician (CET).
With your CCMA certificate, you can:
Work in a primary care clinic
Work in a specialty care clinic

Examples of specialty clinics: Obstetrics and Gynecology, Pediatrics, Neurology, Dermatology, Sports Medicine, Internal Medicine, Physiatry, Gastroenterology, General Surgery, Infectious Disease and more!

Work in a hospital-based clinic
Work for a federal, state, or local government agency.
A career as a Medical Assistant offers great hours and benefits, and with RCC's nine-month certificate program you can get into the workforce quickly. Medical Assistants reap the benefits of a flexible schedule and gratifying career.
---
Currently working as a Front Desk Receptionist in a Clinic or Medical Office and want to advance to Medical Assistant?
This program offers another pathway called the Medical Assistant Bridge Career Pathway Certificate!
This program is for currently employed front desk receptionists (Also called: Medical Administrative Assistants, Patient Service Specialists, Administrative Assistants) to skill up to Medical Assistant in their current workplace! Click here for more information on the MA Bridge Program.
---
Pathway for Career Advancement
Medical Assistants have many opportunities for advancement in the field. Below are some of the jobs Medical Assistants skill up to through workplace advancement or further education, sometimes funded by local employers!
ECG (EKG) Technician
Medical Scribe
Patient Care Coordinator
Clinic Supervisor and Clinic Manager
Radiology Technician

Some local employers train for this on the job!

Emergency Room Technician
Surgical Technician
Nurse (RN) or Licensed Practical Nurse (LPN)

Medical Assisting work experience provides points on the Nursing Application!
Medical assistants perform many tasks that will prepare you for Nursing such as: medication administration and knowledge, specimen collection processing and testing, phlebotomy procedures, ECG procedures and interpretation, wound care, vital signs and medical history documentation, utilization of an electronic medical record (EMR), minor procedures, emergency procedures, patient screening, administrative tasks and more!

Health Information Technician
Physician Assistant (PA) or Medical Doctor (MD)
For more information, attend one of our Information Sessions!
---
Helpful Sites
---