Phlebotomy
Please attend a mandatory Information Session prior to applying.
---
What is a Phlebotomist?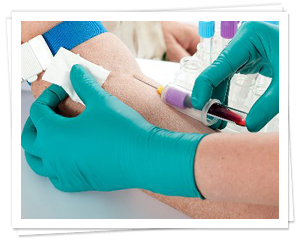 Phlebotomists work in hospitals, clinics, and other medical facilities drawing blood from patients in preparation for medical testing. As a phlebotomist you must be attentive to detail, work well under pressure, have excellent manual dexterity, great communication skills, and really enjoy working with people.
As a phlebotomy technician you are an important member of the clinical laboratory team. New diagnostic techniques, clinical laboratory technology and automated instruments have greatly increased the volume of medical laboratory testing.
---
---
Why become a Phlebotomist?
In just one term you can earn your Phlebotomy Technician certificate and be working in the medical field as a phlebotomist. Phlebotomy is often an excellent stepping-stone to other careers in health care such as medical assisting.
You will gain a lot of experience in your three months at school. During your courses, you will be shown how to draw blood, known as a "stick." You will practice your sticking skills in the classroom so you are prepared and confident before you begin your externship.
---
Click here to view the Phlebotomy Program Map.
---