Phlebotomy
---
What is a Phlebotomist?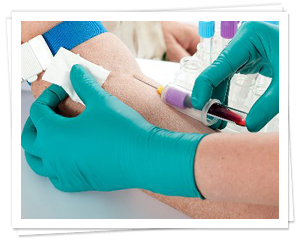 Phlebotomists work in hospitals, clinics, and other medical facilities drawing blood from patients in preparation for medical testing. As a phlebotomy technician you are an important member of the clinical laboratory team. New diagnostic techniques, clinical laboratory technology and automated instruments have greatly increased the volume of medical laboratory testing.
Phlebotomy Tasks
Specimen collection through venipuncture, capillary puncture and heel stick
Specimen handling and processing
Order entry into Electronic Medical or Health Records (EMR or EHR)
Patient Identification and Registration
Treatment of medical emergencies that occur in the laboratory
Communication with patients and explanation of procedures
---
Why become a Phlebotomist?
Phlebotomists are highly sought-after in today's growing medical field. The projected 10-year growth in this industry is 26%.
RCC's Phlebotomy Program offers certification through the National Healthcareer Association (NHA) as a Certified Phlebotomy Technician (CPT)
With your CPT certificate, you can:
Work in a hospital lab
Work in a clinical lab
Work as a traveling phlebotomist (mobile phlebotomist)
Work for a federal, state, or local government agency
A career as a Phlebotomist offers great hours and benefits, and with RCC's one-term certificate program you can get into the workforce quickly!
---
About the Program
In just one term you can earn your Phlebotomy Technician certificate and be working in the medical field as a phlebotomist. This program is designed as a full-time, two half-days per week commitment. This program combines online courses with comprehensive hands-on training in our phlebotomy lab and after learning how to effectively draw blood in the lab, out in a local clinic or hospital for practicum!
There is an option to complete the program part-time or at a reduced credit load, speak with the Program Advisor for more information!
A new cohort begins every Spring and Fall term for core curriculum. Pre-requisites do not need to be complete to apply! Almost every student who is eligible that applies is accepted.
Click here to view the Phlebotomy Program Map.
Pathway for Career Advancement
Phlebotomists have many opportunities for advancement in the field. Below are some of the jobs Phlebotomists skill up to through workplace advancement or further education, sometimes funded by local employers!
Medical Assistant

After completion of the Phlebotomy Program, you can apply to the RCC Medical Assistant Program. Students who have completed the Administrative Medical Assistant Program have already completed 1/3rd of the courses required for the Medical Assistant Program!
For more information see the Medical Assistant Program.

Medical Technologist
Nurse
Paramedic
And more!
For more information, attend one of our Information Sessions!
---
Helpful Sites
---