Peer Support Specialist - Mental Health Specialization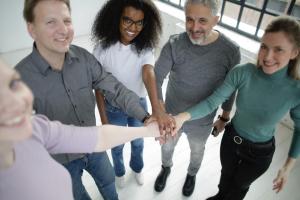 RCC's Continuing Education department offers a 56-hour Peer Support Specialist (PSS) certification training, approved by the Oregon Health Authority. Graduates can register as a peer support specialist within the state of Oregon. PSS are one of the five newly-recognized traditional healthcare worker professions within the state of Oregon.
A PSS provides support, encouragement, and assistance to mental health consumers by promoting activities that foster recovery and empowerment. A PSS is also a consumer advocate who facilitates linkage to needed services and activities. As a member of the treatment team, the peer specialist provides expertise and consultation to the team to promote a culture in which each client's point of view and preferences are recognized, respected, and integrated into treatment.
To be a Peer Support Specialist, a person must meet the following criteria:
Be at least 18 years of age
Not be listed on the Medicaid Provider Exclusion List
A self-identified person currently or formerly receiving mental health services, or a person who has a family member with a mental health diagnosis.
Peer support specialists are usually employed by departments of mental and public health, clinics, community care organizations, or nonprofit organizations.
To view the current schedule and register for class visit the Schedule of Classes . The Peer Support Specialist course runs twice a year, in spring and fall terms.
Course # 5.601
Cost: $449
Rogue Community College also offers Community Health Worker certification training, another traditional health worker profession. CHW has a main focus on general health. For more information on CHW training, please visit the CHW website.