Nursing Assistant Training (NA1)
Are you looking for a stable, in-demand and honorable entry-level job in the healthcare industry? Nursing assistants are compassionate and caring individuals who work in a variety of healthcare settings as an essential member of the nursing team, taking pride in making a positive difference in the lives of others.
There are hundreds of full-time and part-time jobs available across the Rogue Valley for caregivers and nursing assistants. Work opportunities in Southern Oregon include assisted living and rehabilitation centers, nursing care facilities, home care, hospitals and other healthcare settings. Many employers offer shift differential pay and/or sign-on bonuses.
In just six weeks, students who successfully complete RCC's Nursing Assistant 1 training program will be eligible to take the certification exam through the Oregon State Board of Nursing. Our state-approved NA1 program consists of 155 hours of online and in-person training.
RCC's small cohort size allows for personalized support to help you succeed. Over 90% of our NA graduates have passed the state board exam to become a certified nursing assistant (CNA1), and most have received a job offer prior to graduation.
---
Important Dates
Orientation & Information Sessions: Attending orientation is required prior to the first day of class. It's not necessary to complete your application prior to attending this free, no-obligation session; help with applications and WorkSource scholarships will be available.
Wednesday, July 27 — 6-7:30 p.m. at Health Professions Center Room 140 (TRC-C14), Table Rock Campus, 7800 Pacific Ave., White City.
Wednesday, Aug. 10 — 6-7:30 p.m. at Health Professions Center Room 140 (TRC-C14), Table Rock Campus, 7800 Pacific Ave., White City.
| Class Dates | Application Deadline |
| --- | --- |
| Fall 2022 Cohort: Sept. 6 - Oct. 19 | Aug. 23, 2022 |
| Spring 2023 Cohort: April 18 - May 31 | April 1, 2023 |
---
About the Program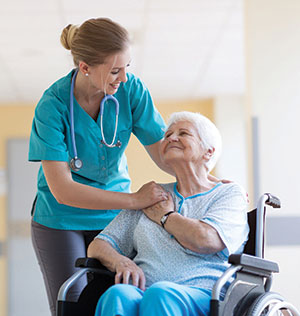 RCC's Nursing Assistant 1 program meets the requirements of the Oregon State Board of Nursing for students wishing to become nursing assistants at training level 1 (NA1). Students who successfully complete this coursework will be able to apply to take the certification exam through the Oregon State Board of Nursing. Passing the board exam grants licensure as a Certified Nursing Assistant.

Students will study patient care, nutrition, safety, legal/ethical issues, physical and mental disease processes, vital signs and infection control, emergency care, and interpersonal skills. Students will be placed in long-term care clinical sites in Josephine or Jackson County to practice their nursing assistant skills during the clinical section of the course.

The program consists of 155 hours of online and in-person training. The first three weeks include 53 hours of online coursework that you can complete at your own pace and 27 hours of in-person lab training at our state-of-the-art Health Professions Center at the Table Rock Campus in White City. During the final three weeks, students take part in 75 hours of hands-on, supervised clinical training at a local healthcare facility.
To learn more about the Nursing Assistant I program, view the short Informational Presentation here.
---
The Investment
Time:
Required orientation before class begins

Total course hours are 155 (53 online theory, 27 lab, 75 clinical hours).

Class times vary, but in general class will meet on Mondays, Tuesdays, Thursdays and Fridays for 6 weeks. Labs are usually from 8 a.m. to 2:30 p.m. for 3 weeks and clinicals are 5:45 a.m. to 1:45 p.m. for 3 weeks.
Tuition:
$2,500 tuition, includes $200 non-refundable application fee.

Tuition assistance is available through WorkSource Rogue Valley. Course is eligible for VA tuition assistance.

Other costs: Access to PC/laptop with internet access; immunizations and TB (PPD) skin test; American Heart Association BLS Provider Course; scrubs and closed-toe shoes; watch with sweep second hand; OSBN certification exam and background/fingerprinting process. Please see the Informational Presentation for more details.
---
How to Apply
Qualified applicants are accepted on a first-come, first-served basis. Applicants must be age 17 or older.
To apply, complete a Nursing Assistant Program Screening Application. You will receive an email about scheduling an interview. Once your interview is complete, you will be emailed instructions for paying your $200 application fee.
You will receive an email with instructions on how to initiate a background check, drug screen and other requirements through Verified Credentials, LLC. It is very important that you begin this process immediately. Watch your inbox for an email with subject line: RCC NA program. These documents must be completed, uploaded and verified one week prior to the class start date.
Upon completion of the program, in preparation to take the certification exam, the Oregon State Board of Nursing (OSBN) requires applicants for certification to provide fingerprints in order for OSBN to conduct a national criminal history record check. Visit Criminal history/background check for information. Please review the potentially disqualifying conditions. You will receive information on how to do this at the end of your clinical rotation.
---
Questions
RCC Continuing Education & Workforce Development Director
Diane Hoover: [email protected]
Oregon State Board of Nursing
Phone: 971-673-0685