Human Services Continuing Education
New noncredit Human Services classes will be offered winter term!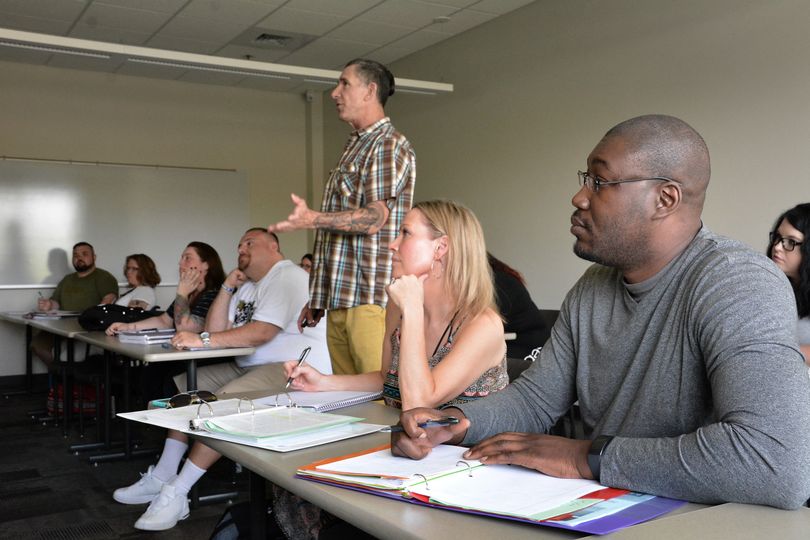 RCC Continuing Education has partnered with the RCC Human Services Department to offer a series of noncredit classes. Topics include Introduction to Assertiveness, Stress Management, Interviewing Theory and Techniques, Ethics for Counselors, Group Counseling, Crisis Intervention Strategies and Co-occurring Disorders: Introductory Theory and Counseling.
These courses are ideal for those currently working as helping professionals or those who are interested in becoming professional helpers.
To view the full schedule visit www.roguecc.edu/Schedule
Anyone interested in taking one or more of these classes will need to contact the course instructor for registration permission. Instructor email addresses are available through the course descriptions in the schedule link above.
For more information contact Manny Pacheco 541-956-7072 or email [email protected].
---
Winter 2023 Courses
9.021 Co-occurring Disorders: Introductory Theory and Counseling
Designed to provide entry level scope and depth of information relative to those human services helpers who are working with clients with a dual diagnosis, to specifically mean clients with both a mental health and an addictions diagnosis. Historical assessment and treatment processes as well as current, state of the art models and systems will be studied. Relevant terminology from both the mental health and addictions arenas will be examined. Professional preparation, systems proficiencies and barriers will be evaluated. Primary field data for mental health and addictions will be surveyed for dual diagnosis context. Pharmacotherapy of the dual diagnosed client will be reviewed. Special assessment, diagnosis, and treatment issues will be examined, as well as family and community systems variables. Specific diads of mental health diagnoses with addictions diagnoses will be studied for case dynamics and special, individual considerations. Networking, team application, and multi-agency collaboration will be studied. Lastly, participants will examine personal perspectives, beliefs, concerns, anxieties, and attitudes about mental health and addictions concepts and dual diagnosis clients. Runs in conjunction with the credit class.
9.022 Introduction to Assertiveness
Examines assertiveness and its relationship to personality development. Focuses on responsible assertive behavior in everyday life; emphasizing communication which respects self and others. Runs in conjunction with the credit class.
9.023 Stress Management
Provides an experiential learning experience geared to developing an understanding of personal stress levels. The course provides a variety of tools to develop stress management strategies. Runs in conjunction with the credit class.
9.024 Interviewing Theory and Techniques
Provides theory and practice in basic counseling skills. This course is based on Carl Rogers' active listening approach. The course also helps students begin to think critically about their own counseling skills and to document the process in written format. Runs in conjunction with the credit class.
9.026 Ethics for Counselors
Prepares students for ethical decision making in the human services field. Includes study of selected professional Codes of Ethics. Case studies will be utilized for additional practice and integration. Runs in conjunction with the credit class.
9.027 Group Counseling
Provides students with the theory and skills of small group dynamics. Focuses on group formation, development of norms, conflicts and controversy, and performance and evaluation. Includes group leader competencies; skills and attitudes; therapeutic factors; group goals and structure; client screening, stages; rules and client roles; phases of group, group problems and issues; opening and closing techniques; group ethics and client termination processes; the role of values, catharsis, transference and counter transference; self-disclosure; and working with a co-leader and counselor. Runs in conjunction with the credit class.
9.028 Crisis Intervention Strategies
Part of a sequence of courses teaching theory and practice in assessment, intervention, and case handling strategies for the helping professional. The current course focuses on crisis situations, including assessment of function and lethality, appraisal of the individual, intervention strategies, case management, referral resources, ethical and professional issues, and specific situational stressors which may lead to a crisis state. Emphasis is on defusing the crisis situation, enhancing mobility and self-determination and ensuring the safety of the client and community. Suicide and other dangers to self and others are of particular concern, as well as the personal and social implications of involuntary hospitalization, civil commitment, and follow-up treatment, including delayed stress reactions and other consequences of crisis events. Runs in conjunction with the credit class.