Community Health Worker Training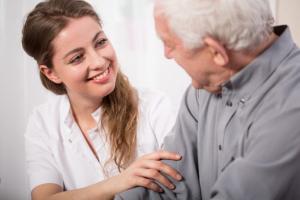 Community Health Worker is a 120-hour training, approved by the Oregon Health Authority, which will allow participants to be certified as a Community Health Worker in the state of Oregon. Community Health Workers are one of the five recognized traditional healthcare worker professions within the state of Oregon. Rogue Community College also offers Peer Support Specialist Certification Training, another traditional health worker profession. PSS has a main focus on the mental health field.
Community Health Workers (CHWs) are frontline public health workers who have a close understanding of, and connection to, the community they serve. This trusting relationship enables CHWs to serve as a link between health/social services and the community to facilitate access to services, and improve the quality and cultural competence of service delivery. CHWs may offer interpretation and translation services, provide culturally appropriate health education and information, assist people in receiving the care they need, give informal counseling and guidance on health behaviors, advocate for individuals and community health needs, and may provide some direct services such as first aid and blood pressure screening. CHWs are effective at building bridges between underserved communities and the health services they need. CHWs are usually employed by departments of public health, clinics, community care organizations, or nonprofit organizations.
RCC's Community Health Worker course runs twice a year, in Spring and Fall terms. It is offered as a 6 credit class, HC100 and as a noncredit class, 5.600. The credit and non-credit versions of this class run concurrently, the only differences being the price and whether or not you need to take it as a credit class for a degree. The credit cost total price is higher, but qualifies for Federal Financial Aid. The non-credit version does not qualify for Financial Aid. Course information will be delivered using a combination of in-class and online instruction.
To view the current class schedule and register for class visit: Schedule of Classes
---
Textbooks required for the class:
Foundations for Community Health Workers, Tim Berthold (Editor), Alma Avila (Editor), Jennifer Miller (Editor), ISBN: 978-1-11906-081-9
Motivational Interviewing in Health Care: Helping Patients Change Behavior (Applications of Motivational Interviewing), by Stephen Rollnick, Ph.D., William R. Miller Ph.D., M.D., Christopher C. Butler, M.D. ISBN: 978-1-59385-613-7