Forklift Operator Safety Training
To view the current Forklift class schedule and to register for class visit the RCC Schedule of Classes. Search the department Continuing Education.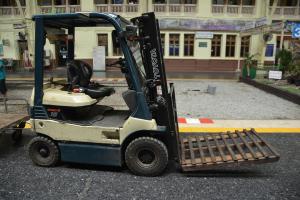 Instructor: Anthony Herrera
Meets OSHA safety regulations for industry. The course contains both classroom and hands-on applications of safe forklift operation techniques, giving an operator safety card which is good for 3 years.
Additional on-the-job training will be needed from your employer to operate your specific forklift(s) there and recognize site-specific hazards and correctly accomplish work-specific tasks.
*Payment cannot be refunded once registration is completed. If RCC cancels a class for any reason, it will be refunded. Please be certain of your intent to complete class prior to registration.*
The RCC safety class can also be provided onsite at employer request. For further class information phone 541-956-7303.