Support Groups and Workshops
Sexual Assault Support Group (Redwood Campus Grants Pass)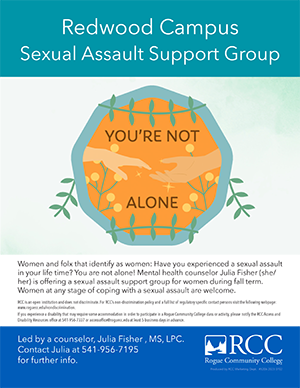 Women and folx that identify as women: Have you experienced a sexual assault in your life time? You are not alone! Mental health counselor Julia Fisher (she/her) is offering a sexual assault support group for women during fall term. Women at any stage of coping with a sexual assault are welcome.
---
Student Huddle
The Student Huddle is an open forum where students can ask questions, voice their opinions, or just listen in. It is an informal safe space for students to discuss their experiences at RCC. The Huddle is a great way for students to give feedback and receive valuable information about student life and the resources available at RCC. This Student Huddle is hosted by the RCC Associated Student Government (ASG), and serves as a way to make direct contact with an ASG Officer.
The Student Huddle will take place weeks 2-10 for fall, winter, and spring terms. Please see the table below for Student Huddle Meeting times.
Attending the Student Huddle will now enter you into a Drawing for a $250 Gift Card Grand Prize Giveaway!!!
Every time you attend a Student Huddle, you will be entered into the drawing. The more Student Huddles you attend, the greater your chances of winning! Please have your Student ID Number with you when you join.
Click the link to join: roguecc.zoom.us
For questions regarding this discussion group, please email [email protected].
If you cannot make it to this discussion, please share your Comments or Concerns via this online form, connect with RCC's Student Life Facebook group or connect with RCC's Student Chat group.
---
If you experience a disability that may require some accommodation in order to participate in a Rogue Community College class or activity, please notify Access and Disability Resources by calling 541-956-7337 or email [email protected] at least 5 business days in advance.