Sexual Assault Awareness Month - April 2022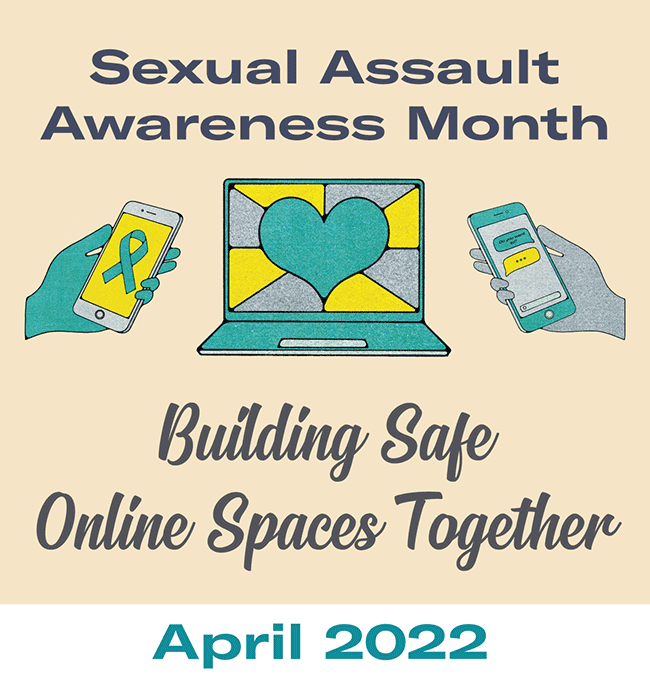 Building Safe Online Spaces Together
Virtual Campus Events, by Julia Fisher, MS, LPC
Sexual Assault Awareness Month (SAAM) is celebrating its 21th anniversary and the theme this year is "Building Safe Online Spaces Together," highlighting the need for digital consent, ensuring safe on-line spaces that value inclusion, safety and respect, and promoting intervention when we see harmful content or behaviors online. Visit the National Sexual Violence Resource Center to learn more.
Please join Julia Fisher of the Counseling Department for events throughout the month of April that will highlight awareness, education and support for survivors. Associated Student Government has donated four prize giveaways, and the Harassment & Discrimination Response Team at RCC is hosting two events, Red My Lips and Denim Day, to bring awareness to SAAM. There will be virtual events, learning opportunities through videos, and a Men's Panel to discuss the theme "Building Safe Online Spaces Together." As always, as a registered student at RCC, you have access to no-additional cost short-term counseling services. Should you need support in coping with sexual assault or any other concern, please reach out to our counseling department at 541-956-7443 or [email protected] to schedule an appointment with a counselor.
---
Social Media Events:
Four $25 Gift Cards from Fred Meyer, sponsored by
Associated Student Government
, will be given away over the month for participation in our social media events. These events will be featured on the Rogue App. Students will have the opportunity to post a picture of themselves supporting the event of the week. The winners for the social media events will be chosen at random, and a picture posted on the Rogue App is required for entry. Only one entry, per giveaway, per student. You must be a currently enrolled student to qualify:
---
Learning Opportunities
Men's Panel: Building Safe Online Spaces Together
Please join us virtually in a panel about Building Safe Online Spaces Together, moderated by Julia Fisher from the Counseling Department and featuring men who work at RCC. This event is not live, rather it was pre-recorded via zoom so it is available for viewing throughout the month of April. Please click this link to watch the panel.
Jackson Katz video, The Bystander Moment: Transforming Rape Culture at its Roots
You can log in using public library card to view video for free.
YouTube video on Consent
YouTube video on Consent, Coercion and Sexual Violence
Tabling Event: on April 14, 2022 from 11:30 am-1:00 pm in the HEC at Riverside Campus, stop by for some Dutch Bros coffee and to learn more about SAAM. RCC's Harassment and Discrimination Response Team and Resource Coordinator will be joined by SOU, Sexual Assault Response Team, and Community Works for this event. All students and staff are welcome to stop by and participate!
Resources for Survivors of Color
---
Partnerships
ASGRCC: A special thank you to ASGRCC for providing the gift cards!
---
Resources/Info:
National Sexual Assault Hotline, 24/7: 1-800-656-4673
Josephine County 24 hr. crisis line: 541-474-5360
Jackson County 24 hr. crisis line: 541-774-8201
Women's Crisis Support Team - Josephine County