Alpha Zeta Pi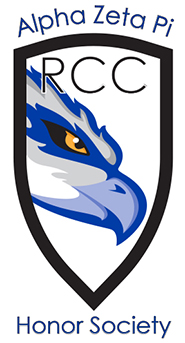 The purpose of Alpha Zeta Pi at Rogue Community College shall be the promotion of scholarship, the development of leadership, service, and the cultivation of fellowship among qualified students at Rogue Community College.
Membership Benefits
Apply for Alpha Zeta Pi scholarships
Transcript notation
Recognition at graduation
Leadership and service opportunities
Utilize membership on other academic and professional applications
Certificate of recognition
---
Membership Requirements
3.65 cGPA on the 4.0 scale
Completed 24 transferable credits (May include professional/technical credits 100+)
Enrolled in 8 or more credits
Only one "W" on transcript within a two term period
How to Join
Once each term, email invitations will be sent to qualified honor society candidates with information about how to join. Qualified students pay a one-time membership fee of $35 to become members of Alpha Zeta Pi. This fee is payable at Rogue Community College Marketplace. Students qualified to join will need to provide a passcode in order to process payment. Please click here to join.
For more information please contact
Nicole Kieffer
or call 541-956-7324.