Women's Volleyball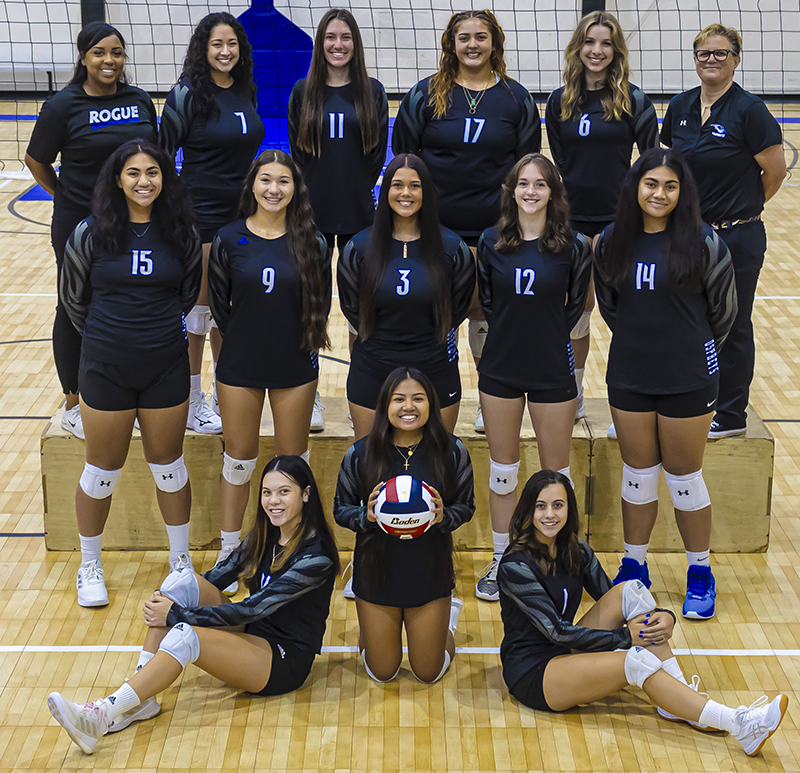 Women's Volleyball Head Coach: Christine Nelson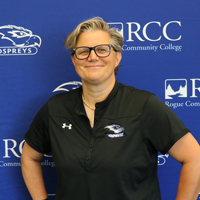 Coach Nelson brings more than two decades of experience coaching volleyball and basketball at the high school and collegiate levels. She comes to RCC from Grays Harbor College in Aberdeen, Washington, which also competes in the Northwest Athletic Conference (NWAC).
---
The Ospreys volleyball facilities are located at:
The Court House
709 North Phoenix Road
Medford, OR 97504
OSPREYS WOMEN'S VOLLEYBALL SCHEDULE FALL 2023
All games in bold are home (Medford) games.
| | | | | |
| --- | --- | --- | --- | --- |
| Date | Opponent | Location | Start Time | Results |
| Friday, August 11 | Oregon Tech | Klamath Falls, OR | 11:00 a.m. | Scrimmage |
| Saturday, August 12 | Southern Oregon University | Ashland, OR | 11:00 a.m. | Scrimmage |
| Tuesday, August 15 | Corban | Salem, OR | 2:00 p.m. | Scrimmage |
| Thursday, August 17 | Vanguard | Ashland, OR | TBA | Scrimmage |
| Friday, August 25 | Edmonds | Seattle, WA | 1:00 p.m. | Loss: 0-3 |
| Friday, August 25 | Olympic | Seattle, WA | 4:00 p.m. | Win: 3-0 |
| Saturday, August 26 | South Puget Sound | Bellevue, WA | 10:00 a.m. | Win: 3-1 |
| Saturday, August 26 | Bellevue | Bellevue, WA | 7:00 p.m. | Loss: 0-3 |
| Friday, September 8 | Mt. Hood | Medford, OR | 6:00 p.m. | Win: 3-1 |
| Saturday, September 9 | Clark | Medford, OR | 2:00 p.m. | Win: 3-0 |
| Saturday, September 16 | CBC Crossover: Centralia | Pasco, WA | TBA | Win: 3-1 |
| Saturday, September 16 | CBC Crossover: Blue Mtn. | Pasco, WA | TBA | Win: 3-0 |
| Sunday, September 17 | CBC Crossover | Pasco, WA: Pierce | TBA | Win: 3-1 |
| Sunday, September 17 | CBC Crossover: Edmonds | Pasco, WA | TBA | Loss: 1-3 |
| Friday, September 22 | Chemeketa | Salem, OR | 6:00 p.m. | Win: 3-2 |
| Saturday, September 23 | Clackamas | Oregon City, OR | 2:00 p.m. | Loss: 3-1 |
| Friday, September 29 | Lane | Medford, OR | 6:00 p.m. | |
| Saturday, September 30 | Linn-Benton | Medford, OR | 2:00 p.m. | |
| Wednesday, October 4 | Umpqua | Roseburg, OR | 6:00 p.m. | |
| Friday, October 6 | Southwestern | Medford, OR | 6:00 p.m. | |
| Friday, October 13 | Mt. Hood | Gresham, OR | 6:00 p.m. | |
| Saturday, October 14 | Clark | Vancouver, WA | 2:00 p.m. | |
| Thursday, October 19 | Chemeketa | Medford, OR | 6:00 p.m. | |
| Friday, October 20 | Clackamas | Medford, OR | 4:00 p.m. | |
| Friday, October 27 | Lane | Eugene, OR | 6:00 p.m. | |
| Saturday, October 28 | Linn-Benton | Albany, OR | 2:00 p.m. | |
| Wednesday, November 1 | Umpqua | Medford, OR | 6:00 p.m. | |
| Friday, November 3 | Southwestern | Coos Bay, OR | 6:00 p.m. | |
| Saturday, November 11 | TBD | TBD | TBD | |
| Sunday, November 12 | TBD | TBD | TBD | |
| Friday, November 17 | TBD | Pierce College | TBD | |
| Saturday, November 18 | TBD | Pierce College | TBD | |
| Saturday, November 19 | TBD | Pierce College | TBD | |