Tiffany Malsberger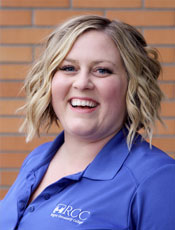 Tiffany Malsberger
[email protected]
541-956-7201
Tiffany loves helping students – whether it be exploring the idea of college, getting started, choosing a program to study, even finding a job after graduation. She has worked with students since 2014, including working for College Dreams and RCC Career & Student Employment Services.
Tiffany has been with Rogue Community College since 2016 and is passionate about helping students along their path at Rogue Community College. She enjoys serving students in the Rogue Valley, where she grew up. As an RCC Admission Coach, Tiffany is excited to help potential students explore their options at RCC and work together to make a great transition into being a college student.
Tiffany has a bachelor's degree in Human Services from Southern Oregon University and received her Associate of Arts Oregon Transfer degree from RCC. In her free time, Tiffany enjoys upcycling and crafting, traveling, playing games and spending time with family.
Favorite Childhood Movie: Anything Disney
Favorite TV Show: The Office
Fun Fact: Tiffany is an identical twin