Lifelong Learners at RCC
Tuition Waiver for Lifelong Learners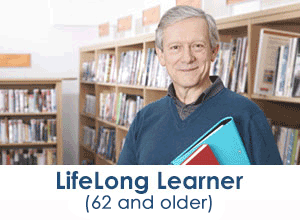 The Lifelong Learner program is designed to promote a lifestyle of continuous learning and personal enrichment, personal connection and fun.
It is available to Oregon residents, ages 62 years and older who are not looking for a college degree.
There is a list of classes you can take and the Tuition waiver can be applied for up to 8 credits. Most classes are 3 or 4 credits.
You will still pay course fees and be responsible for books and supplies you may need.
Who can join the Lifelong Learners Program?
Anyone who:
Is an Oregon resident
Is 62 or older
Is able to read and write at the level expected for the course
Is taking the class just for fun!
Join us today! Here is our process:
Apply to RCC as a Lifelong Learner
Choose the course(s) you'd like to take.
Fill out the Lifelong Learner Tuition Waiver
RCC will contact you to confirm your registration.
Lifelong Learners may not apply to career technical and Special Admissions courses at RCC. All courses in the following programs are not eligible for the Lifelong Learner Tuition Waiver: Allied Health, Apprenticeship, Alcohol and Drug Counselor, Automotive Technology, Business Technology, Dental Assistant, Diesel Technology, Early Childhood Education, Electronics Technology, Emergency Medical Services, Emergency Services, Fire Science, Health Care, Human Development, Human Services, Manufacturing, Massage Therapy, Mechanical Engineering Technology, Medical Office Assistant, Medical Assistant, Nursing, Paramedicine, Pharmacy Technician, Phlebotomy, Practical Nursing, Service Learning, Welding.
RCC's most popular Lifelong Learner classes are:*
| COURSE # | COURSE TITLE |
| --- | --- |
| ART115 | Basic Design (Composition) |
| ART120 | Introduction to Digital Art |
| ART205 | History of Art II |
| ART234 | Figure Drawing I |
| ART234 | Figure Drawing I |
| ART237 | Illustration (Black and White Media) |
| ART253 | Ceramics I |
| ART253 | Ceramics I |
| ART257 | Jewelry and Metalsmithing I |
| ART258 | Jewelry and Metalsmithing II |
| ART276 | Sculpture I |
| ART281 | Painting I |
| ART281 | Painting I |
| ART294 | Watercolor I |
| ART294 | Watercolor I |
| SPAN102 | First Year Spanish II |
| WR241 | Imaginative Writing I |
---
How to pay for Lifelong Learner Fees
Pay by phone:
To pay your fees by phone, call the business office at
541-956-7450
M-F 8 a.m. - 5 p.m.
Pay by Cash in-person:
To pay your fees with cash please come in-person to any of our Rogue Central locations on all three campuses and make a payment.
M-F 8 a.m. - 5 p.m.
Pay by check:
To pay your fees by check, mail your check to:
Attn: Lockbox Department PD-OR-C2LB
Rogue Community College Lockbox 003678
2999 NE 181st Ave
Portland, OR 97230 
Approximate course fees are listed below.
Credits
1
2
3
4
5
6
7
8

College Services Fees:
$17 per credit up to a maximum of $255 (at 15+ credits).

Tech Fees: $7/credit

$24
$48
$72
$96
$120
$144
$168
$192

Class Fees & Supplies

Examples
$3 CPR Card
$11.50 Clay for ceramics
$50 Art Supplies
$56.75 Text Book
Some classes have additional fees. These are listed when you register.
If you have questions, you can also contact Admissions and Recruitment.
Phone: 541-956-7217
Email: [email protected]
Schedule an Appointment