Green Zone Training
What is the Green Zone?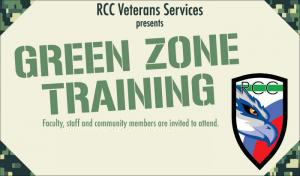 The Green Zone provides resources and knowledge to help understand and appreciate the unique challenges and strengths of military students. RCC Military Services is providing Green Zone training for faculty and staff.
Green Zone training was pioneered at Virginia Commonwealth University (VCU) in 2010 and is now offered at more than 100 universities and organizations nationwide. It is named for the secure international zone in Baghdad, Iraq, which is a place familiar to many Post - 9/11 service members.
At the completion of the Green Zone, participants will be awarded a Certificate of Completion, a challenge coin, and a badge to place in your office for military students and ASM (Active Service Members) to recognize which members received Green Zone training. Military students and ASM know their academic needs will be met to succeed toward graduation and receive the confidence and tools needed to enter the workforce.
When
Where
Time
Notes
Wednesday, April 19, 2023
Grants Pass, Redwood Campus
H2
8:30 a.m.- 12:30 p.m.
Breakfast is Provided
Tuesday, April 25, 2023
White City, Table Rock Campus
C-150
12:00 -4:30 p.m.
Lunch is Provided from Chick-Fil-A
All faculty and staff are invited to attend. Sign Up Here!
Questions? Please contact: Nikki Johnson, Military Services Director | 541-956-7109 | [email protected]
If you experience a disability that may require some accommodation in order to participate in a Rogue Community College class or activity, please notify Access and Disability Resources | 541-956-7337 | [email protected] at least 5 business days in advance.
---