Community Resources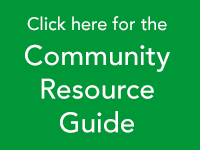 Southern Oregon Success: A list of businesses and services offering help and support
Josephine County Community Resources
Findhelp.org: Search and connect to support. Financial assistance, food pantries, medical care, and other free or reduced-cost help.
Best Colleges: Many college students face food and housing insecurity. A compiled list of resources to help students get the help and support they need.
Programs to Help You Find the Right Lawyer
Sleep in Heavenly Peace: A group of volunteers dedicated to building, assembling and delivering top-notch bunk beds to children and families in need.
Transportation and Bus Information
Options/RCC Collaboration: Helping people with mental illness return to school.
Visit an Options representative in the Redwood Campus "L" Building.
Crisis Text Line is a suicide prevention resource for Oregon residents. They can help you with relationship issues, general mental health, and suicide. Text OREGON to 741741.
Cannabis Worker Resilience Project: If you work in the cannabis industry and your worksite was recently impacted by law enforcement you may be eligible to receive help.
Josephine County Library: For current resources in the Josephine County area, check the Josephine Community Library's website.
Table Rock Foundation: currently oversees the Phil Hart youth campsite which consists of 40+ acres carved out of 375 acres in the mountains of So. Oregon, outside of Grants Pass. Camps are for youth to develop into stewards of the earth, and stewards of themselves.
Northwest Seasonal Workers Association : NSWA's members are the backbone of the economy; we pick and pack pears, tend grapes for the wine industry, reforest the mountains and fight wildfires, and perform other jobs in the seasonal industries of agriculture, timber and tourism, yet often receive wages that don't cover survival needs for a family. NSWA is 100% volunteer run and completely independent of government funding.
---
211info: Is a non-profit contact center launched in 1980 as a crisis line. In 2004, they transformed into a 211 service, providing callers with referrals to basic needs programs such as food, shelter, health care and more. Since then, they've expanded: consumers can still reach the service by calling 211, but they can also text or email, or use the mobile app and online database.
To speak with a 211 Community Information Specialist about resources in your area:
CALL 211 or 866-698-6155
TEXT your zip code to 898211 (TXT211), Monday-Friday 9:00 a.m.- 5:00 p.m.
EMAIL [email protected], Monday-Friday 9:00 a.m.- 5:00 p.m.
PHONE 24 hours per day / 7 days a week
OR search for resources on our online database or download our app.