Massage Therapy Pre-Application Procedures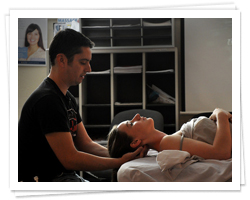 To become a RCC student, fill out an online admission application from following the options at Getting Started. Complete the placement test OR if you have transcripts from another college, have your up-to-date, sealed, official transcripts sent to Rogue Central at 3345 Redwood Highway, Grants Pass, OR, 97527. Once your transcripts are received and you are notified via email, you will need to submit a Transfer Credit Evaluation Request. You will be notified as to how transfer coursework has been applied to the Massage Therapy Certificate requirements by email and visiting Degree Audit through your myRogue account. Deadline for submitting up to date official transcripts (to Enrollment Services) is May 1 to be assured processes are completed and will be considered in the selection of applicants process.
View the Massage Therapy Information Session Video on the Massage Therapy Info Session page and complete the short quiz to document that you viewed the video.
Review the Massage Therapy Program Maps.
Complete the RCC New Student Orientation, prerequisites and other courses prior to June 24th.
The application for 2024 will open April 1, 2024.
There are 32 full time positions available in the program. Applicants will be notified, by email, of the results of the selection process. Within the email there will be next step instructions so please read carefully.
RCC emails students by using their Student Email Address. Please be sure to call 541-956-7066 if your email, phone number or mailing address changes.
A Mandatory three-hour New Massage Therapy Student Orientation will be scheduled the week prior to the start of fall term.
---