Writing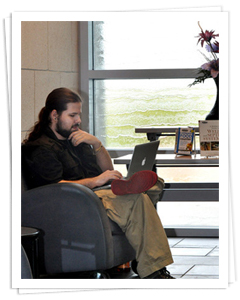 Imaginative Writing
If you're looking to stimulate and improve your own creative writing, RCC Imaginative Writing courses offer you the opportunity to study with instructors who provide unique approaches to creative writing. Expect to write a lot, learn critical terminology, and spend class time discussing your own and others' writing.
English Composition
The goal of the Composition courses is to provide students with the opportunity to practice writing skills that will enable them to write successfully in all their college classes. By the end of the course curriculum, students should be skillful at reading analytically and critically; their writing should demonstrate an understanding of organization, audience, voice, and the conventions of college-level written English.
Fundamentals of Academic Literacy (WR91)
If you placement tested into both WR90 and RD90, you qualify for a new and exciting course that RCC is offering. Each course, WR90 and RD90 are four credits, but the new course combines the two into one 5 credit course and will allow you to fulfill the requirements for both WR90 and RD90 in this one WR91 class!
When you enroll in WR91, you will receive the following benefits:
Save time and money as you accelerate your college and career goals!
Access to a tutor specifically assigned to the WR91 course.
Lab time set aside to start homework so you will have less coursework to take home each week.
Opportunity to pass WR115 within the WR91 course. Dependent upon your mastery at this level, you could potentially move from the WR91 course straight into WR121 in your very next term!
Successful completion of the WR115 challenge would allow you to gain time and save money as you move forward toward your academic goals.
If you are interested in this awesome opportunity to accelerate into college level writing courses in a supportive class environment, please contact your advisor or Debora Coen, RCC Writing Department Coordinator at [email protected] or by phone 541-956-7224.
Resources:
---