RCC Redwood Campus Gym Schedule
We offer several HPER classes on Redwood Campus in the Umpqua building (RWC-U or RWC-Gym) located on the hill between the Student Center and the SBDC.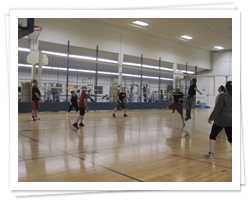 The RCC gym is staffed with gym supervisors and Exercise Specialist students who can assist students and staff with their weight equipment questions and their physical fitness/cardio workout plan needs. The assistance is free and allows the novice to the advanced workout enthusiasts to fine tune their fitness goals.
Many HPER classes are offered in the gym at the Redwood Campus. The HPER also offers online classes and a variety of activity and sport related classes at locations spanning from the Southern Oregon coast, up to the San Juan Islands and east to the rock-climbing area of Smith Rocks in central Oregon.
Backpacking
Basketball
Circuit Fitness Training
Core and Cardio
Emergency First Aid
Health and Fitness for Life
Hiking the Oregon Coast
HIV and Infectious Diseases
Indoor Cycling
Introduction to Sport Science
Karate
Kayaking in the San Juan Islands
Lap Swim
Pilates
Personal Health
Mountain Biking
Physical Conditioning/Weight Training
Pickleball
Rock climbing
Soccer, Indoor
Stress Management/Healthy Living
Surfing
Tai Chi
Volleyball
Water Aquatics
Wilderness First Aid
Yoga
Zumba
*Weight room located in the Gym
---
Looking to work out in the Gym?
Are you currently registered in an HPER class?
Yes - The gym is available for no charge.
Ask your instructor or the Gym Staff for assistance.
No - There is a small fee to use the Gym for those students who are not registered in an HPER class but who are registered in at least one other RCC course.
To get access to the gym facilities, sign up for Open Gym and Basketball (course number .200). Students must also attend a mandatory safety orientation before first use. The details of scheduling an orientation are offered are in the notes for the .200 course. The course notes state:
HPER: Students who use the gym must have a current student identification card, use non-marking tennis shoes, and register for the Gym Use section. The fee for students who do not have an HPER health or PE class each term is $17 and will be charged against students' accounts or paid at time of registration. Students must arrange for an orientation each term with Ms. Richards at [email protected].
All students and staff must sign the Rules and Protocol for the gym and go through an orientation before beginning to work out.
For more information about RCC's Gym Use, contact Mrs. Misner at 541-956-7206 or [email protected].
---
The Redwood Campus gym is open for fall term!
Monday and Wednesday
9:00 - 11:00 a.m. and 12:30 p.m. - 4:00 p.m.
Tuesday and Thursday
10:30 a.m. - 4:00 p.m.