Rogue Community College drives $306.5 million economic impact and fosters job growth, reveals new data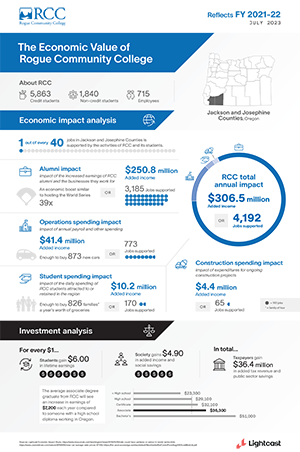 Rogue Community College (RCC) is an economic engine generating $306.5 million annually for the southern Oregon economy according to an economic impact study released on August 15, 2023.
Using data from fiscal year 2021-22, independent labor market analytics firm Lightcast analyzed the college's economic impact in Jackson and Josephine counties as well as the return on investment for students and taxpayers. The analysis found that RCC "creates a significant positive impact on the business community and generates a return on investment to its major stakeholder groups—students, taxpayers, and society."
Economic impact analysis
The analysis found that RCC contributes $306.5 million annually in income to the economy, or about 2% of the region's total gross regional product (GRP). The college's economic impact includes operations spending, construction spending, student spending as well as the higher earnings of alumni who entered the regional workforce with new skills after studying at RCC.
In 2021-22, RCC employed 715 full-time and part-time faculty and staff. Payroll amounted to $33.9 million, much of which was spent within the region to purchase groceries, mortgage and rent payments, dining out and other household expenses.
Return on investment
In 2021-22, RCC served 5,863 credit students and 1,840 non-credit students. The analysis estimates the total investment made by RCC students at $14.3 million, equal to $13.4 million in out-of-pocket expenses (tuition, fees, books and supplies and future principal and interest on student loans) as well as $953,000 in wages students would have earned if they had been working instead of attending college.
In return for their investment, RCC's students will receive higher future earnings that will continue to grow throughout their working lives. For every $1 students invest in their education at RCC, they receive $6 in higher future earnings, the study found.
At the midpoint of their career, RCC students who complete an associate degree earn about 25% more than workers with only a high school diploma, or an average of $7,200 more annually. Students who complete a certificate program earn almost 10% more than those with a high school diploma, or about $2,900 annually.
The average annual rate of return for students is 23.9%, compared to the 30-year average 9.6% return on the U.S. stock market.
The links below provide more detailed information about RCC's economic influence on Jackson and Josephine counties. For an in-depth look at the economic impact of Oregon's community colleges, visit OCCA's Economic Impact of Oregon's Community Colleges webpage.