Right to Learn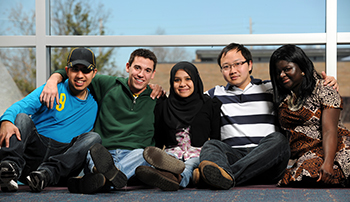 The following Right to Learn statement* is in alignment with RCC's expressed mission. The Administration endorses this statement as reflective of the basic principles upon which this country was founded, and it is in support of our students as they pursue their American Dream.
For anyone who is concerned about his or her immigration or social status as a student at RCC, the Rogue Community College Administration hereby reaffirms the RCC commitment to protect and uphold the principles of social justice, mutual respect and tolerance.
Right to Learn
Rogue Community College (RCC) Administration recognizes all people's Right to Learn. Our mission is to provide quality education for all segments of society through open access admission offering equal and fair treatment to all students who desire to learn, regardless of social position.
To achieve these ends, promote the physical safety and emotional well-being of RCC students, and keep our campuses secure and inviting to them and their families, Rogue Community College will do the following:
Pursuant to the Family Educational Rights and Privacy Act (FERPA) and relevant law, RCC staff shall not disclose personal information including but not limited to any RCC student immigration status. In addition, no RCC staff member shall ask about any student's immigration status or that of a student's family members.
In support of this, Rogue Community College will provide safe zones for students to communicate their concerns and access resources such as:
Bilingual counselors/advisors
Counselors/advisors with whom students share a common identity
Legal counsel
A means to report hate incidences
RCC, under FERPA, approves what Directory Information is published and shall not release "non-directory" student record information unless legally compelled to do so.
RCC security personnel do not have the authority to, and therefore will not, enforce federal immigration laws.
RCC Administration has the authority and responsibility to control access to college property, owned, leased, rented or occupied for the purpose of RCC related education, service or operations, and restricts the facilitation or consent to immigration code enforcement unless under court order or in the event of an imminent health or safety risk.
Online Resources
Oregon Goes to College
Causa Oregon
Oregon Immigration Resource
Immigration Status and Eligibility for Government Help
Centro Latino Americano
Repository of Resources for Undocumented Students
*Rogue Community College cites ORS 341.290(4) and (17), and ORS 192.420 and applicable state and federal law and rules of the Oregon State Administration as support for this Right to Learn statement.