Welcome to Contract and Procurement at RCC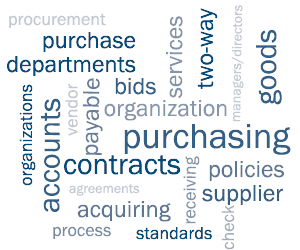 The Contract and Procurement office supports the educational goals of Rogue Community College by assisting departments in acquiring goods and services through de-centralized purchasing processes and vendor contracting.
The staff members of the Contract and Procurement Office are committed to assuring that there is a mutually beneficial and cooperative relationship between the College and the supplier community.
---
The function of the Office of Procurement and Contracting includes the following:
Coordinates purchases of all goods and services for all college departments
Maintains vendor records and relationships
Arranges for product demonstrations and refers information about new or improved products to departments using these products
Provides assistance and recommendations to college departments
Monitors procurement procedures
Provides training
Evaluates bids and proposals, negotiates, recommends contract award, and monitors status of award
Sponsors and/or attends community outreach activities to encourage active participation in the college's procurement process
---
Contact Info
General Office Info
Redwood Campus – "JO" Building
3345 Redwood Highway
Grants Pass, OR  97527     
General Questions:
[email protected]
541-956-7200
Staff
Jodie Fulton, CPPO, CPPB,  Director
Sheri Bransfield,  CPPB, Procurement Specialist
Richard Amneus,  CPPB, Contract Specialist
Hours
Monday-Friday
8:30 a.m. – 5:00 p.m.
Please check the academic calendar for college closure days and holidays.