Welcome to Contract and Procurement at RCC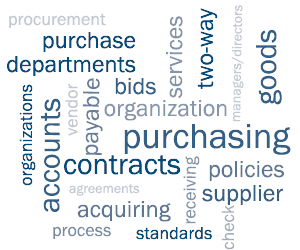 The Contract and Procurement office supports the educational goals of Rogue Community College by assisting departments in acquiring goods and services through de-centralized purchasing processes and vendor contracting.
The staff members of the Contract and Procurement Office are committed to assuring that there is a mutually beneficial and cooperative relationship between the College and the supplier community.
Contact Info
General Office Info
Redwood Campus – "JO" Building
3345 Redwood Highway
Grants Pass, OR  97527     
General Questions:
[email protected]
541-956-7200
Staff
Jodie Fulton, CPPO, CPPB,  Director
Sheri Bransfield,  CPPB, Procurement Specialist
Richard Amneus,  CPPB, Contract Specialist
Hours
Monday-Friday
8:30 a.m. – 5:00 p.m.
Please check the academic calendar for college closure days and holidays.