Computer Lab Software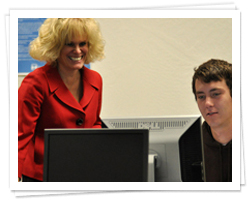 The software available on our systems is selected to serve the general student population. Other unique or department-specific software applications can be offered in the labs but must be supplied by the requesting department. Installation of any software application by student users is prohibited.
Additional computers for public use are available in the RCC libraries.
Due to licensing restrictions, some software packages are available only in select labs. Please see lab tutors/aides for specifics.
Labs Basic Software:
Adobe Acrobat Reader
Adobe Flash
Chrome
Desmos Calculator
Firefox
Java
MS Office
Windows 10 and 11
Program Specific Software
Varies by term and class offering.
Adobe Creative Cloud
MS Visual Studio
MS SQL
Net Beans
Python
QuickBooks
Sketchpad
Virtual Box
Visual Studio Code