Massage Therapy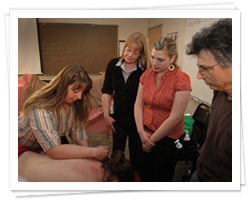 Through classroom and hands-on experience, the RCC Massage Therapy program prepares individuals to provide relief, improved health and wellbeing of clients through manual techniques by manipulating skin, muscles and connective tissues.
Training meets requirements for state licensure and national certification.
Whether your goal is to work in a medical office, resort, day spa, on a cruise ship, or to start your own private practice, the massage therapy training you receive at RCC can help you achieve your dream.
Certificates:
---
Massage Therapy requires Special Admissions.
What is Special Admissions?
The college may restrict enrollment in a class or program due to limited space, staff or equipment. Some programs or classes have special admission requirements such as minimum age, safety issues or criminal background due to employment and practicum requirements. See the "Programs of Study" section for specific requirements and contact information.
The application window is April 1, 2024 to June 24, 2024. This program includes the training and practicum hours that meet the requirements for Oregon state licensure and national certification. For more information, call 541-956-7066 or email [email protected].
Click here for more information about the application process.
---
About the Program:
Courses offered include Swedish massage, Asian bodywork, hydrotherapy and massage for cancer patients, and the sciences of Anatomy, Physiology, Kinesiology and Pathology plus more.
The program is accredited, NCBTMB accredited assigned school and financial aid eligible.
Unique service learning opportunities are included.
---
Entry Requirements:
Enrollment in the Massage Therapy program is limited. Applications are accepted, on a first-come, first-served basis (provided prerequisites are met). A mandatory orientation will be scheduled the week prior to the fall term start date.
For details see pre-application procedures. If you have questions regarding the application process, please contact the Massage Therapy administrative assistant at 541-956-7066.
Department Chair:
Tiffany Clarkin
Email: [email protected]
---