Commercial Truck Driver Training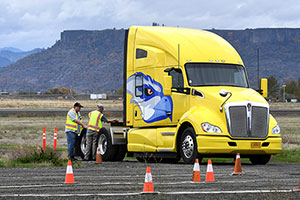 RCC is one of the area's premier truck driving schools and our training provides a Non-Credit Training Certificate (NCTC), approved by the Oregon Higher Education Coordinating Commission (HECC). We are a FMCSA registered Entry Level Driver Training (ELDT) provider.
Highly experienced, patient, and professional instructors
Excellent classroom setting and teaching methods
College transcript of training and non-credit certificate
Our Class A training consists of 3 program courses which provide 50 hours of classroom instruction and 144 hours of truck yard/range and open road instruction.
3.111, Introduction (classroom): Dedicated to studying and reviewing the information required to obtain your Commercial Learner Permit.
3.112, Advanced Topics (classroom): A complete study of what it takes to be a well-rounded professional driver.
company expectations and successful attitudes required of a professional truck driver
Instruction on all phases of truck driving techniques
State and Federal laws as they apply to the transportation industry
Local and National driving opportunities
Paper Logbooks, Electronic Log Devices, Cargo Handling & Manifests
Time management and safety
HAZMAT endorsement training
Preparation for behind-the-wheel Commercial Driver License Exam
3.113, Practical Applications (behind-the-wheel): Extensive behind-the-wheel instruction covering: pre-trip inspection, brakes test, shifting from square one, all types of backing, coupling and uncoupling, local and city driving, freeway driving, and extensive practice on all types of grades. Includes CDL skills test given by third-party tester.
Program Prerequisites:
Must be at least 18 years of age and have a valid Oregon driver license.
Must have at least 1 year of driving experience
For students 18 - 20 years old, commercial driving within state lines is allowed (intrastate). You must be at least 21 years old to drive commercial across state lines (interstate).
Driving Record, Industry Standards:
No more than three moving violation citations in the past three years.
No major "at fault" accidents in the past five years, and no more than one "at fault" accident in the past 12 months, or more than two in the past five years.
No DUI, reckless, or negligent violations within the past three years.
No excessive speed violations in the past three years, fifteen miles or more over posted limit.
No "Failure to Appears" on Motor Vehicle Record.
No Felonies within the past seven years.
The above standards reflect current insurance requirements to be competitively employed in the trucking industry. Not meeting these standards will not always prevent a student from entering the RCC Commercial Truck Driving training, but students should be aware of potential employability issues.
Job Placement
Students will need to apply for their professional truck driving positions. RCC will provide all necessary documentation to inquiring trucking companies to assist in placement of graduates. Search for professional truck driving positions under Resource Links.