Commercial Truck Driver Training
**Our schedule makes it easier to work while training. Change your career to driving while keeping your weekday job. The training is designed to not burn you out and allow you to keep paying bills while you effectively study/drive. Overall schedule: Monday -Thursday, 6-9 p.m., Saturdays, 7:30 a.m. - 4:30 p.m.
Full Dates & Times: Class Schedule
RCC is one of the area's premier truck driving schools and our training provides a Non-Credit Training Certificate (NCTC), approved by the Oregon Higher Education Coordinating Commission (HECC).
Our greatest responsibility is training you to drive safely, and to prepare you to enter a competitive workforce with the knowledge and understanding needed to succeed in today's transportation industry.
There are plenty of openings for drivers, for both local driver routes ($45K-60K) and over-the-road (OTR), longer haul routes ($50K-$65K.)
Make a career jump that will change your life forever, for the better and in only one term. It's hard to find a shorter type of training that gets you such a rewarding and in-demand career.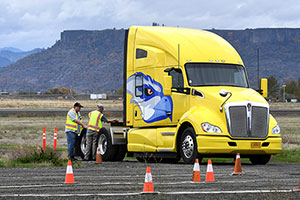 As part of tuition and the training, you receive:
Initial drug screen
Medical Physical (DOT)
Highly-experienced, professional teachers
Excellent classroom & teaching methods
Minimum of 35 hours individual behind-the-wheel time and 140 hours as a group
Plenty of practice on shifting, backing, steep grades, in-town and freeway driving
DMV Driving Skills Testing
Our training is well-known by local trucking companies and our students get strong consideration for jobs. Our partnerships with local companies provides ample opportunity to apply for and be considered for great jobs!
For students 18 - 20 years old, commercial driving within state lines is allowed (intrastate).
You must be at least 21 years old to drive commercial across state lines (interstate).