RCC At a Glance

Click here to get the full, interactive graph data
---
Total Annual Enrollment 2020-21
(Data as of 12/10/2021)
Credit: 5,143 (74.84%)
Dual Credit: 669 (9.74%)
Non-credit students: 1,060 (15.42%)
Total: 6,872
Veterans: 343
Gender
Men: 558 (37%)
Women: 4239 (62%)
Age
Less than 18: 903 (13%)
18-24: 2531 (37%)
25-34: 1798 (26%)
35-44: 905 (13%)
45-64: 651 (9%)
65 and over: 77 (1.12%)
Ethnicity
American Indian/Alaskan Native: 77 (1.2%)
Asian: 135 (1.96%)
Black: 53 (.11%)
Latino: 1,446 (21%)
Pacific Islander: 39 (.54%)
White: 4,468 (65%)
Multi-Racial: 296 (4%)
Unknown: 358 (5.21%)
---
2021-22 Tuition and Fees
TUITION Cost per credit
In-State: $120
Out-of-State: $148
FEES
Technology: $7 per credit.
College Services: $17 per credit up to a maximum of $255 (at 15+ credits)
ESL/GED® instruction: $65 per term.
GED® testing: $38 per test per individual.
Non-credit classes: tuition varies.
---
Enrollment vs. State Funding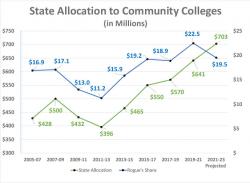 2020-21 Total Budget: $49,941,864
General Fund Expenditures by Function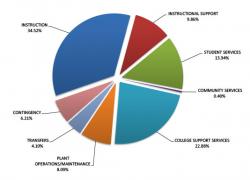 Budgeted Revenue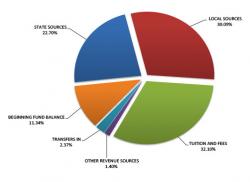 About the College
Established in 1970, Rogue Community College serves residents in Jackson and Josephine counties at campuses and learning centers in Grants Pass, Medford, White City and the Illinois Valley.

A public two-year community college, RCC offers multiple transfer degrees; more than 80 career and technical education degrees or certificates; and a variety of workforce and short-term training, academic skills, and continuing and community education classes; plus services to the business community.

One of 17 community colleges in Oregon, RCC is accredited by the Northwest Commission on Colleges and Universities. RCC also is approved by the Veterans Administration as a veterans training institution.
Campuses and Learning Centers
Redwood Campus (RWC)
3345 Redwood Hwy.,
Grants Pass, OR 97527 541-956-7500
Riverside Campus, (RVC) Student Success Center
227 E. 9th St., B Building
Medford, OR 97501 541-956-7500
Table Rock Campus / High Tech Center / Health Professions Building
7800 Pacific Ave.,
White City, OR 97503 541-956-7500
Illinois Valley Learning Center
24311 Redwood Hwy.,
Kerby, OR 97531 541-956-7490
Entrepreneurs Commercial Cookspace
24353 Redwood Hwy.,
Kerby, OR 97531 541-956-7494
RCC/SOU Higher Education Center
101 S. Bartlett St.,
Medford, OR 97501 541-956-7500
Small Business Development Center
3345 Redwood Hwy. B Building.,
Grants Pass, OR 97526 541-956-7494
---
Board of Education
Pat Ashley, Claudia Sullivan, Kevin Talbert, Ph.D., Pat Fahey, Roger Stokes, Maria Ramos Underwood, and Jeff Lang
Administration
Randy Weber, Ed.D., President
Juliet Long, Vice President, Student Learning and Success/Chief Academic Officer (CAO)
Lisa Stanton, Vice President of Operations and Finance/Chief Financial Officer
Jamee Harrington, Vice President of People, Safety and Culture and Chief Human Resources Officer (CHRO)
Faculty
Full-time faculty: 79
Part-time faculty: 161
Financial Aid Awards
For academic year 2020/21: $1,778,982 in financial aid was awarded to 2,629 students.