Fire Science
The fire service is a highly dynamic profession that offers a variety of daily challenges to the professionals who work within it. The primary mission of the RCC Fire Science program is to prepare students for careers as firefighters.

Which Fire Science Path Should I Choose?
Click for more information on all of our Emergency Services program options.
Professional Standards
Students who complete these programs will be prepared to meet the unique demands of a rewarding profession. We pride ourselves in delivering the highest education available by following standards set by the state and national organizations below.
Opportunities For Experience
A unique feature that sets RCC fire training apart is our relationship with Southern Oregon fire departments. Most of our students are actively engaged in a Student Firefighter program with one of the several fire departments RCC serves in Jackson and Josephine counties.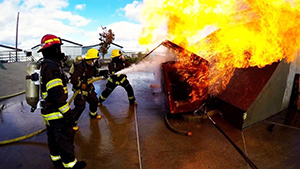 When not attending school, most student firefighters are working as a 3rd or 4th member on a fire engine, alongside career firefighters, an average of ten 24-hour shifts per month. This enables the students to maximize the learning environment by applying the skills learned at RCC with real life preparation on actual fires and other emergencies. From this relationship, RCC graduates are career ready at completion of the program.
RCC runs a joint testing process with partnered fire agencies for the RCC Firefighter 1 Academy & Student Firefighter programs. Select the Firefighter 1 Academy link above and follow the steps to the application. You will have an opportunity to give preference for which of the departments you are interested in. Follow the "links" on the left of the page for more information on these and other local fire departments.
Register for a course | Advisors | Check us out on Facebook
---