RCC Automotive Department
Where can you find automotive service careers?
Everywhere.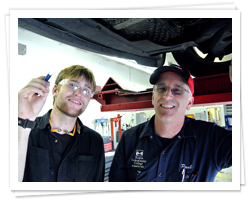 The U.S. economy and lifestyle are heavily reliant on transportation. Anyone who owns a vehicle knows the importance of automotive service technicians and mechanics.
Most automotive service technicians work for automotive repair and maintenance shops, automobile dealers, and retailers and wholesalers of automotive parts, accessories, and supplies. Others find employment in service stations, home and auto supply stores, automotive equipment rental and leasing companies, federal, state, and local governments and other organizations. More than 16 percent of service technicians are self-employed.
Today's technicians must have a broad base of knowledge of how vehicles' complex components work and interact, as well as the ability to work with electronic diagnostic equipment and computer-based technical reference materials.
Automotive career and employment opportunities are expected to grow statewide through 2022 with job openings much higher than the statewide average.
---
About the Program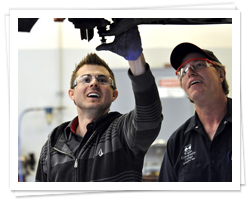 The design of the program emphasizes hands-on work in the automotive labs. Approximately two-thirds of the time is spent in a shop environment where you will learn to apply theory to diagnosis and repair of a wide variety of domestic and import automobiles. As the level of your skill develops, so does the difficulty of the repairs performed.
Instructors are ASE certified and factory trained professionals. They are experienced in the use of the latest equipment for the diagnosis and repair of today's high technology automobiles, and they are dedicated to providing the best possible training for prospective automotive technicians.
---
Associate of Applied Science Degree
Certificate
---