Oregon State University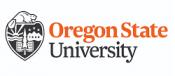 Oregon State University
104 Kerr Administration Building
Corvallis, OR 97331-2107
---
Transfer Partnerships with OSU
Rogue Community College and Oregon State University have entered into a new partnership as of winter 2016 known as the Degree Partnership Program. This partnership was created to assist students who are wanting to transfer from RCC into OSU.
Students who transfer to the OSU using the DPP program have a great opportunity to use both schools to accomplish their academic goals. In addition, students in this program have access to OSU services early on that can support a healthy transition from a community college to OSU.
---
This tool shows how individual classes transfer from RCC to OSU.
---
Oregon State University Tuition and Fees Webpage
Oregon State University Scholarship Webpage