Professional References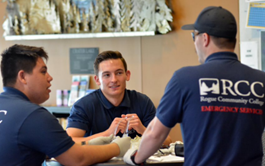 The professional reference list details your references' contact information. When applying online, there should be a place for you to list your references; however, you may also include this with your application packet.
When developing your reference list, consider the following:
Employers typically ask for 3-5 references.
Choose references relevant to the position and industry if possible.
Do not include anyone on your reference list without asking their permission first.
Do not include personal references unless the employer specifically requests them. The exception to this would be for a young student without a work history.
References should be provided only upon request.
Contact your references as soon as you have handed out the reference list. You may want to send them a current copy of your resume, as well as a description of the position for which you've interviewed.
If you know that your references were contacted, send a thank you note or e-mail.
Do not reference them in your resume (i.e. "References provided upon request").
You can find a sample professional reference list professional references list here.