Helen Whitaker Education Fund
---
The Helen M. Whitaker Fund is offering low-interest loans for Josephine County certified educators seeking: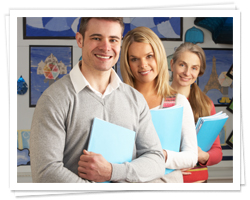 Advanced degrees
Administrative licensure
Subject area endorsement
Initial to continuing licensure
Specialized training
Applicants must have a minimum of three (3) years' experience, hold at least a bachelor's degree, and intend to continue to work in the educational field in Oregon. Rogue Community College instructors and instructional administrators in Josephine County are eligible to apply. Loans are available in amounts up to $10,000 and are interest-free until completion of the program of study. Payments begin upon completion or termination of the program at 3% annual interest. Recipients may take up to five (5) years to repay.
To apply for a Whitaker Education Loan through the RCC Foundation, please complete and return the below application to the RCC Foundation along with the $16 processing fee which covers the cost of a credit report.
Helen M. Whitaker Application Form
---
For more information contact:
Helen M. Whitaker Education Fund
c/o Rogue Community College Foundation
3345 Redwood Highway
Grants Pass, OR 97527
541-956-7327
email: [email protected]