Math Marvels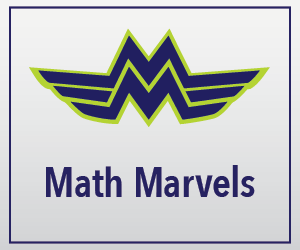 Where Students Become Heroes and Conquer Math!
Does the thought of taking math classes make you nervous? Fear not, for we are here to help! Should you choose to join our team, you will gain the guidance and tutorship needed to leap through remedial math and complete college-level math.
Program Criteria
Do you need to complete one or more of the following math courses: MTH20, MTH60, or MTH243R (Corequisite Support Course)?
Do you meet one or more of the following criteria?
First Generation College Student - The parent or guardian with whom the student was raised has not completed a four-year college degree (Bachelor's degree)
Low-income ((e.g., recipient of one or more of the following: Pell Grant, SNAP, TANF, WIC, Free & Reduced Lunch)?
Non-traditional student (e.g., over age 25, single parent, criminal history)
Student of color
Minority student
Undocumented or DACA student
LGBTQ++
Under age 18
Emancipated minor
GED® / ABS student
Student with disabilities to include mental health barriers
Program Requirements
Participants must complete the following requirements during each term in order to remain program eligible to earn our scholarships.
Enroll in math course (MTH60 or MTH243)
Enroll in our MTH60 Non-Credit Support Lab or MTH243 Corequisite Support Course (Passcode required for registration)
Commit to regular attendance in both math course and support lab
Enroll at least half-time (6 credits or more)
MTH60 students must check-in with program staff once per term. MT243R students must check-in with program staff twice per term.
What we offer
Personalized Check-Ins
Program staff provide individualized check-ins with program participants that ensures timely progress towards educational goals.
Classroom Support
Enroll in the co-requisite labs to gain additional math support. Access to individual and group tutoring to assist with coursework completion and test prep.
Math Peer Coaches
Coaches provide tutoring to program participants during lab and outside of lab as needed.
Workshops
A variety of workshops are offered throughout the year geared towards helping participants connect with resources, reduce stress and anxiety, develop rapport with peers, and prepare for future careers.
Textbook Scholarship
Eligible program participants will receive textbook and college supplies each term.
Math Course Completion Scholarship
Eligible program participants will receive this scholarship upon successful completion of their math course, one award per student (MTH60 or MTH243R).
LEAP Option for MTH20 Students
Students placed into MTH20 have the opportunity to leap ahead by enrolling in our MTH60 Support Lab and a MTH60 course. Regular attendance is required to successfully complete our program.
MTH243 with Corequisite Support Class
Program participants enrolled in a MTH243 course with MTH243 Corequisite Support course will have access to Peer Coaches and Workshops. Participants will also be eligible to receive the Textbook and Supplies Scholarship and the Math Completion Scholarship upon successful fulfillment of program requirements.
Fall Term Course Offerings
MATH 60 Support Lab
Monday & Wednesday
12:00 p.m. - 12:50 p.m. via Zoom
MATH 60 Support Lab
Tuesday & Thursday
4:00 p.m. - 4:50 a.m. via Zoom