RCC Student Employment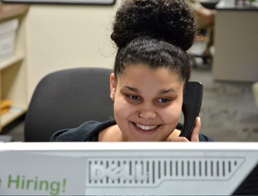 Want a part-time job while being a student?
Apply for our open Student Employee positions!
As a student, working part-time while managing your classes and personal life takes some consideration and planning, yet it can be done! RCC has many success stories that prove it.
Student Employees at RCC may work a maximum of 20 hours per week during the term. However, depending on their department, they may work more than 20 hours per week during the breaks between terms.
Based on the skill level required, each Student Employee position is classified as Level 1 or Level 2 and paid the following hourly wage:
Level 1: $14.25
Level 2: $14.75

To learn more about RCC Student Employment, click on the links below.