Community Jobs
For all that you know, the job that you want is right around the corner—maybe even literally!
Community Jobs exists for the convenience of our students and alumni. This is a free service offered to job seekers and to employers and recruiters who wish to promote vacancies to potential applicants from Rogue Community College and the community at large. This page doesn't link to job application portals; applicants should apply directly through employers and the websites of their organizations.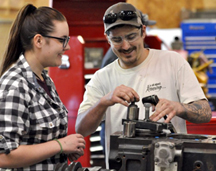 Community Employment Opportunities
Below are current job openings in multiple industries throughout the Rogue Valley (as of July 2022, the minimum wage in Jackson and Josephine Counties is $13.50 per hour):
A note to job searchers: These positions aren't affiliated with or endorsed by Rogue Community College. RCC isn't responsible for the ultimate validity of the positions or any communication between applicants and external employer(s). We encourage applicants to research all employers and organizations. Do your best to ensure that they're legitimate and that they align with your professional values and goals.
Employers and Recruiters
We love that employers and recruiters seek to help provide our skilled, talented students with meaningful jobs, internships, and other career opportunities. To post your jobs, you may create a free account.
A note to employers: We'll screen job postings to verify the legitimacy of your organization. Further, posting vacancies here doesn't necessarily guarantee that you'll receive applicants. You may also join the RCC Student Employment Services LinkedIn group.