Visit MyFinAid to check your "To-Do List" and view your award information.
Click here for important 2024-25 Application information.
We are here to answer your financial aid questions. Contact your Financial Aid Advisor based on your program major.
Walk-in Hours:
Grants Pass - Redwood Campus (RWC)
Rogue Central, Welcome Center (
map
)
Medford - Riverside Campus (RVC)
Rogue Central, HEC Rm 102 (
map
)
White City - Table Rock Campus (TRC)
Rogue Central, Rm A-187 (
map
)
Monday-Friday
8:00 a.m. - 5:00 p.m.
Payments accepted until 4:30 p.m.

Federal School Code: 010071
(one code for all RCC campuses)
Financial Aid status messages, including requests for information and your award letter,
are sent to your RCC student email.
---
The Financial Aid Office's mission is to provide opportunities for students to access financial aid to achieve their educational goals.
---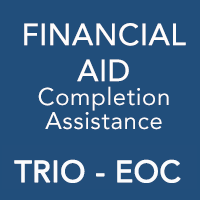 Looking for some financial help to make it through college? More than 50 percent of students who attend RCC receive some sort of financial aid. Many are first-generation college students balancing a job, family life, and education. Financial aid may be available for students who are full-time or part-time. Your Financial Aid Advisor can provide you with information and assistance when applying for financial aid, including grants, loans, scholarships and part-time employment at RCC. For more information, check out Financial Aid Application and Process Information.
If you or your parents (for dependent students) have experienced a significant reduction in income since the tax year required on the FAFSA, or have had other special circumstances impact your household finances, you may want to consider requesting a Change in Income Appeal or a Special Circumstances Appeal. These provide students an opportunity to submit documentation that shows a more up-to-date and accurate snapshot of their financial situation. Please review the Change in Income Appeal and/or the Special Circumstances Appeal for more information and requirements.
Applying For Financial Aid
All About Financial Aid
Managing My Aid
Additional Resources
2024-2025 FAFSA
The 2024-2025 FAFSA has been delayed until December 2023.
Due to some significant changes resulting from the FAFSA Simplification Act, the launch date for the 2024-2025 FAFSA has been delayed from the normal October 1st date. The changes aim to streamline the application process and make it more user-friendly, as well as expand eligibility for federal financial aid.
While no firm date has been set, we are committed to keeping students and families updated.
In the meantime, there are some steps you can take to be ready for classes in 2024-2025:
Prospective Students:
Current Students:
Contact your Academic & Career Coach to plan your enrollment – registration is open NOW for Winter 2024!
Apply for OSAC state scholarships (Oregon residents only, deadline is March 1st)
Apply for Scholarships with the RCC Foundation (opens Feb. 1, 2024, deadline is June 1, 2024)
---
2023-24 Financial Aid Deadlines
TERM
PRIORITY FINANCIAL AID PROCESSING
(for registered students)
TERM
STARTS
FINANCIAL AID
DOCUMENT SUBMISSION
DEADLINE
Summer 2023
May 12, 2023
July 10, 2023
August 24, 2023
Fall 2023
July 20, 2023
September 25, 2023
December 1, 2023
Winter 2024
November 3, 2023
January 8, 2024
March 15, 2024
Spring 2024
February 16, 2024
April 1, 2024
June 7, 2024