How to Submit an Event to the Calendar
Do you have an event that would be of interest to RCC students, RCC staff, as well the public community?
Community members: submit event details through the Submit a Calendar Event web form.
RCC employees: while creating an event or editing your previously created room reservations in 25Live. Angel Woods is the only one who can enter events without a physical location. If your meeting is a Zoom meeting or at a location not available in 25Live, send your details via the Submit a Calendar Event web form.
In 25Live, you can add the details of your event as follows:
NOTE: If the event location is not held on an RCC property, email Angel Woods with the details. Examples: car wash fundraisiers, SVO street clean-up and hikes, choir concerts, etc.
Event Name - a shortened version of the event title.
The Event Name must be descriptive. If this event is published on the RCC calendars, employees, students and guests should be able to recognize this event. (40-character limit)

Event Title - displays on the public calendar with the link.
The Event Title is what will show in the RCC Public Calendar. (120 character limit) Indicate the event's campus location by noting the three-letter campus designation in parenthesis at the end of the title. For example, RWC=Redwood, RVC=Riverside, and TRC=Table Rock.

Event Type
Select one Event Type that most closely matches the overall definition or reason for the event. NOTE: Once the event is saved, the event type cannot be changed.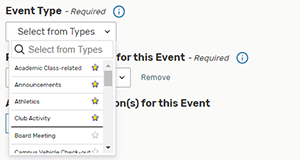 Primary Organization for this Event
The department or organization in-charge of the event, the one requesting the use of RCC locations and resources.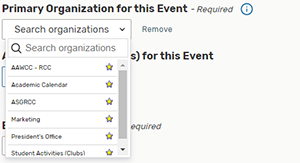 Additional Organization(s) for this Event
Anyone else responsible for the event.

Expected Head Count
Important when selecting a location based on the number of occupants.

Event Description
Put the event details here. Please do not include any personal information that you do not want published on a public calendar.
NOTE: You will be able to flag this event for calendar publishing later in the creation wizard.
Add details from the event's flyer.
Who is invited?
What is the topic or reason someone would want to come?
Where? What is the location?
Indicate the campus, building, room as follows
(Campus abbreviation- Building abbreviation Room number)
Is there a cost?
Is there food? Or Beverages?
Is there a registration form?
When? What is the date? What time? (from ___ a.m./p.m. to __ a.m./p.m.)
Who is sponsoring or hosting?
For more information, contact [name] at [email] or [phone] or visit [webpage address].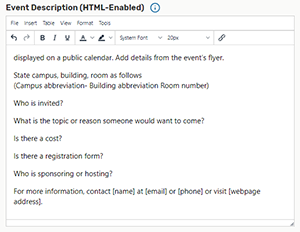 Event Date and Time
Double check your dates and times because the calendar here may display Monday as the first day of the week. You can change this in your preferences.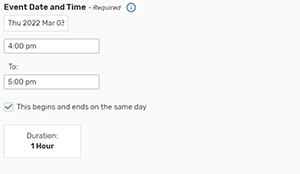 Additional time
Enter the time you need to set up and clean up for your event here so that your event displays the right time for when things are happening.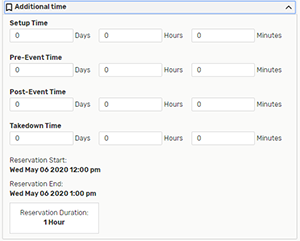 Repeat pattern
Click "Repeat Pattern."



Select "Pattern."
Ad Hoc allows you to pick dates that are not repeated daily, weekly, or monthly. If you have a meeting that is in the same place at the same time and repeats every quarter, enter it in Ad Hoc. You can go in and review these, including deleting one date if someone cancels a meeting but not the series.
Click "View All Occurrences" to check the reservations.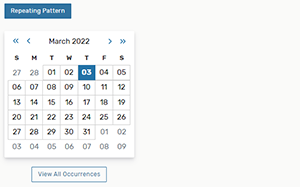 Event Locations
Search tips: If you have locations you reserve frequently, consider staring them so they display on your favorites list (starred locations).
Search for campus spaces by looking at the Public searches for campus spaces.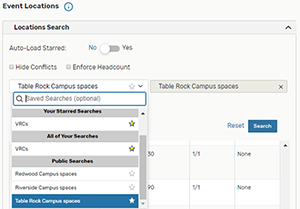 Event Resources
Used to notify Facilities, Media or Security when an Event has special needs.
Events Outside of Normal Business Hours: Covers any events that fall outside of RCC's normal hours as well as any weekend dates.
Facilities: Covers any set up or clean up needed for an event.
**This does not take place of a work order, it is for notification only **
Complete the Facilities Management, Planning and Construction (FMPC) Work Request found on mPulse to ask for resources. Questions? Call 541-956-7333.
Media - Equipment Setup: Covers requests for any equipment needed that is not already in the location selected.
Media - IP Video Conference: Covers requests for any event that needs to utilize IP Video Equipment or Zoom access.
Guest Wi-Fi Access: Our Wi-Fi is now "public access" so guest speakers will not need credentials to use the Wi-Fi.
Security: Covers any requests for extra security at an event.
Need extra Security? If you:
Need extra trash cans or tables and chairs, contact Facilities (mPulse)
Need a microphone, speakers, projection screen, give media a note here.
Need equipment set-up or video conferencing, give media a note here.
Contact Roles for this Event
The Requestor is the user that is logged in to 25Live. You can change the Requestor as needed.
DO NOT CHANGE THE SCHEDULER FIELD

Publish to Calendar
Select Publish to Calendar to submit your event for display on the Rogue Community College web calendar. You can also leave a note regarding a specific calendar preference.
NOTE: All entries will be reviewed by Marketing prior to posting.
NOTE: You must be an RCC employee to submit calendar requests through 25Live. Non-employees should submit their calendar requests through the Submit a Public Calendar Event form.
To submit a Press Release, please complete a Marketing Work Order.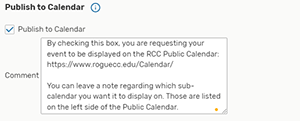 Event Comments
You must leave your contact information in this field. Also used to leave any notes needed for Facilities, Media, or Security for your event.

Event State
  Should always be set to TENTATIVE. The Scheduler will change the state to "Confirmed" once they approve the reservation.

Save
You can click preview to see what your form looks like, but I recommend saving first. You can come back and edit the saved event. This is good to be sure you did not copy anything into the description that does not display nicely. For support please email Angel Woods.