Ailym Pinero Requena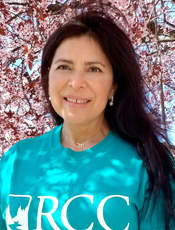 ELA Transition Specialist
Email | 541-956-7037
Book an appointment
Ailym was born and raised in a Venezuelan working-class family, and is a first-generation college graduate. She is a Medical Doctor, with residency in ophthalmology and fellowship in pediatric ophthalmology, who developed a successful professional career in her home country for more than 20 years.
Due to a change in the socioeconomic conditions in Venezuela, Ailym moved to the US in November 2017. In 2018, she became an RCC student in the ELA program, earning her GED, and attending healthcare classes. In 2019, she earned an Associate of General Studies and her CNA certification. With her work experience at Head Start and in the LISTO program; she is now working towards a degree in education.
"The USA became my second country, and RCC became my second home. Here I feel safe; surrounded by an excellent group of people who balance a mixture of knowledge, ethics, and compassion. This new start is not from zero. I might have lost material things and may be apart from the ones I love, but still I keep the most valuable thing a human being could treasure: my education."
Ailym is excited for her new position as Transition Specialist, ELA, combining her Spanish/English bilingual skills in her professional and personal life, and helping students pursue their goals in learning English.
In her spare time, Ailym enjoys different activities, including volunteering at Asante (RRMC), working out, boxing, and Salsa dancing. She's more of a "beach person, but fell in love with Southern Oregon's mountain views.
"Go confidently in the direction of your dreams! Live the life you've imagined." -Thoreau