Scholarship Donor/Recipient Meet-n-Greet
The RCC Foundation is pleased to host informal meet-n-greet opportunities for scholarship donors and recipients. The purpose is to get acquainted and be inspired. Often, members of our RCCF board or Scholarship Committee will also participate. We may contact you, but you're welcome to contact us at 541-956-7293/[email protected] and request such an opportunity. Following are some highlights:
2022/23
---
Addictions Recover Center (ARC) Scholarship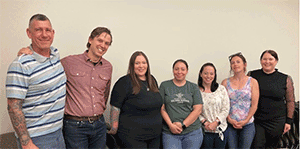 Manny Pacheco, Human Services Program Coordinator
Eric Guyer, Chief Clinical Officer and Deputy Director, Addictions Recovery Center Students; Angela Duke, Isabella Cash, Rikki Anderson and Shellly Greene, Amber Duncan, Director of HR, Additions Recovery Center
All-Pro Fleet Services Scholarship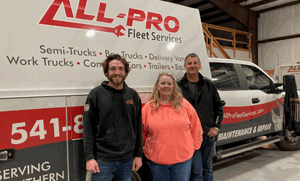 Ethan Watkins, Recipient and Anna & James Dehoog, Donors
---
Jacksonville Garden Club Scholarship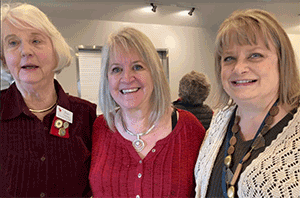 Susan Cusaleggio, President, Connie Moreland-Bishop, Treasurer, Anna Manley, RCCF Scholarship Coor. Missing: Rebecca Woody, recipient
Stokes Family Scholarship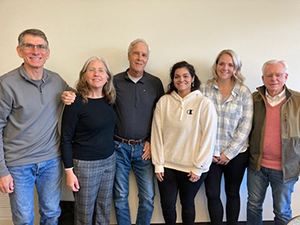 Pat Barry*, Jeanne Stallman*, Bob Hunter*, Jennifer Tinsley-Nursing, Tatianna Kimler-Human Services, Roger Stokes-Donor* *Members of the Medford Rogue Rotary Scholarship Committee
---
Epstein Family Foundation Scholarship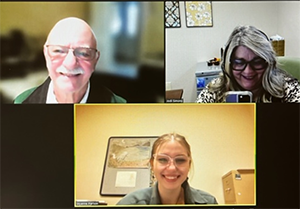 Matt Epstein, Donor, Jodi Simons, Interim Executive Director of the RCC Foundation, SkyAnne Pierson (Education), Recipient
AAUW (Amer. Assoc. of Univ. Women)-GP Endowed Scholarships and Katherine F. Bilas Memorial Endowed Scholarship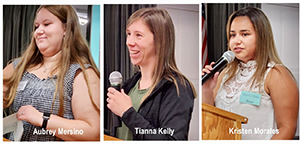 Aubrey Mersino (Nursing), Tianna (Kelly) Clark (Nursing) and Kristen Morales (Business)
---
Christopher Bales Endowed Scholarship
Aubrey Mersino-1st Yr NURSING, Rebecca Peteron-Donor, Megan Capp-Mechatronics, Electronics, Embedded Systems
Virgil & Marlene Syverson Scholarship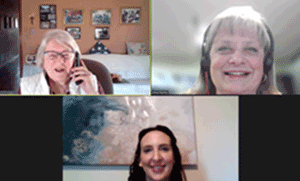 Marlene Syverson, Donor. Anna Manley, Scholarship Coordinator, RCC Foundation and Natalie Petersen, Recipient
---
AAUW - Ashland Celebration of RCC and SOU Scholars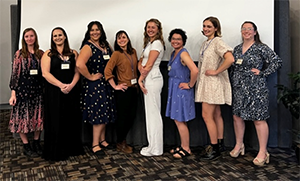 Recipients from Left to Right: Echo Anderson Montana (Stephens) Salazar (positions 3-7 are SOU students) Catherine Vawte.
Did not attend: Tina Sringer
Rogue Valley Classic Cruisers Club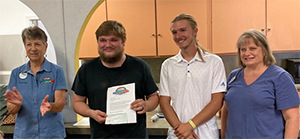 Recipients: Isiah Owens – 2nd Year Auto Tech (works at Toyota in GP) Jacob Christman – 1st Year Auto Tech (works at shop in Eagle Point that services German vehicles)
2021-22
---
Rogue Valley Classic Cruisers Scholarship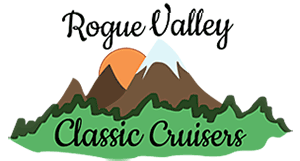 Recipients: Britteny "Baili" Genaw and David Orlando Jr
Becca Lopez Endowed Scholarship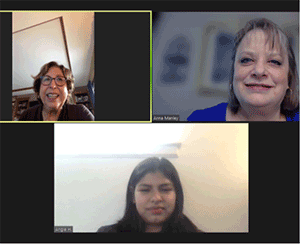 Yolanda Burton, Donor, in honor of her grandmother, Josephina Lopez
Anna Manley, Scholarship Coor. RCC Foundation
Angela Hernandez Cisneros, Recipient
---
Zerwer Family Second Step Scholarship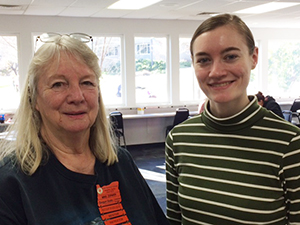 Mike Zerwer (donor) and Alia Parker (AAOT-Engineering)
King Family Endowed Scholarship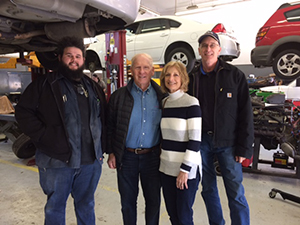 Richard Camacho III (Automotive Technology), Bob & Anne King (donors), Paul Boothroyd (Co-Chair, Automotive)
---
Todd T. Stocking Memorial Scholarship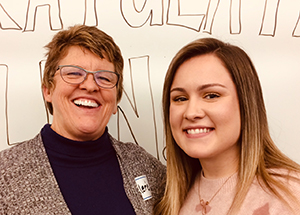 Valerie Barr (RCCF Board) and Shiarra Weast (LPN)
Monica Marvin Nursing Scholarship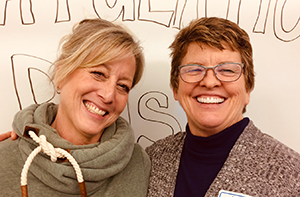 Sandra Watson-Abbott (LPN) and Valerie Barr (RCCF Board)
---
Glenna Hale Memorial Scholarship
Front: Sharon Baker, Harry Baker, Cindy Thompson (Donors Trustees)
Back: Erin Hal, Itzel Perez-Zaragoza, Annette Lizarraga, (LPNs)
Licensed Practical Nursing Scholarship Group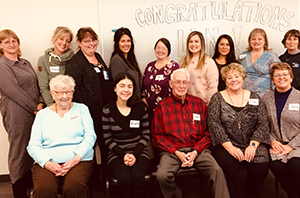 Front: Sharon Baker (Donor), Annette Lizarraga (LPN), Harry Baker (Donor), Cindy Thompson (Donor), Valerie Barr (RCCF Board)
Back: Lorri McIntosh (Instructor), Sandra Wateron-Abbott (LPN), Danna Rogers (LPN), Yolanda Dobb (LPN), Erin Hall (LPN), Shiarra Weast (LPN), Itzel Perez-Zaragoza (LPN), Anna Manley (RCCF staff), Kathy Meyer (Instructor)
---
Helen Rossi Memorial Scholarship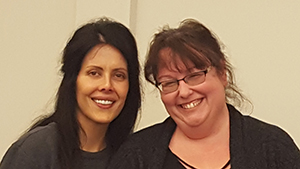 Yolanda Dodd and Danna Rogers (LPNs) on phone with Barbara Rossi-Underriner and Dave Underriner (Donors)
American Association of Women in Community Colleges (AAWCC) Endowed Scholarship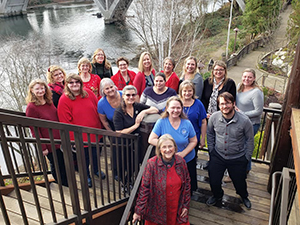 Heather Hanson (second from left), 2019/20 student scholarship recipient.
---
Ashland Garden Club Scholarship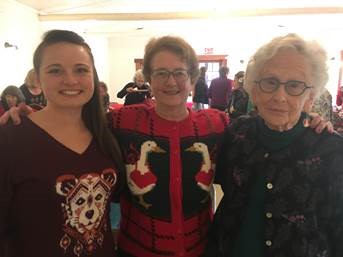 Cheyenne Cloud (AAOT-Biology), Amy Lepon (donor's Scholarship Coordinator) and Joanie Kintscher (donor's President)
Midge & William L. Renton Family Endowed Scholarship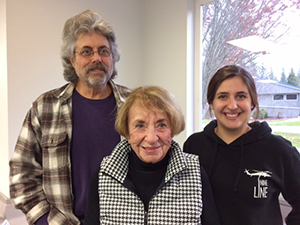 Marty Zottola (RCCF Scholarship Committee), Midge Renton (donor) and Alexandrea Bakie (Elementary Education)
---
Christopher Bales Scholarship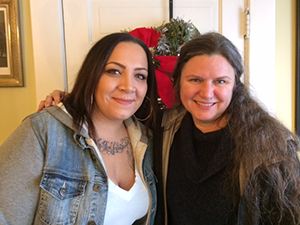 London Robert (AAOT-Psychology) and Rebecca Peterson (donor)
Linda Loper Memorial Endowed Scholarship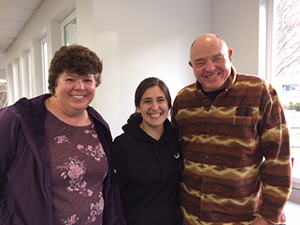 Melissa Hobbs (donor), Alexandrea Bakie (Elementary Education) and Bob Loper (donor)
---
Carl E. Stein Memorial Endowed Scholarship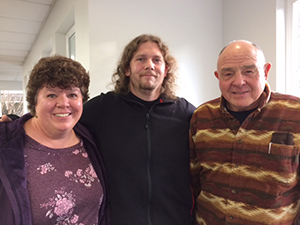 Melissa Hobbs (donor), Daniel West (Electronics) and Bob Loper (donor)
Sally Smith Scholarship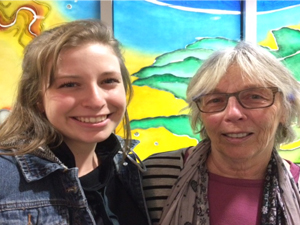 Kylee Smith (AAOT-Dermatology) and Billie Miracle (donor)
---
Rogue Valley Classic Cruisers Scholarship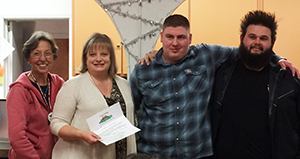 RVCC Treasurer (donor), Anna Manley (RCCF staff), Braedon Roper (Automotive Technology) and Richard Camacho III (Automotive Technology)
Tinkham Scholarship
Valerie Barr (RCCF Board), Misha Hamblin (2nd-Yr Nursing), Jackie Backus (1st-Yr Nursing), Frank Kukla (RCCF Board), Anna Manley (RCCF staff) (Donor not pictured.)
---
Columbia Pacific Foundation Scholarship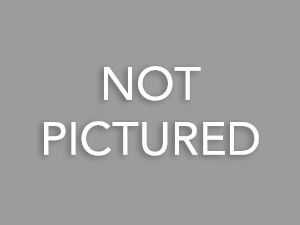 Robert MacLellan, Gay MacLellan and Mike Towery (donors), Andrea McLaughlin, Breanna Gutierrez, Christopher Grillo, Jenni Ibarra (recipients)
Bhasin Scholarship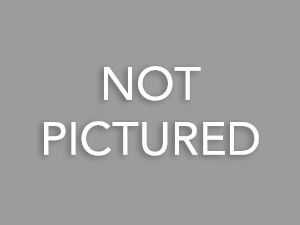 Kumar & Roberta Bhasin (donors) and Cheyenne Cloud and Karl Sorenson (recipients)
---
Bartle Scholarship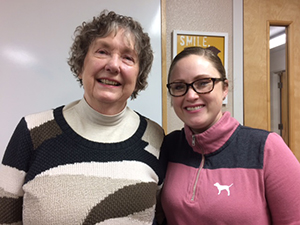 Lynn Hughes (donor) and Suzanne Sanders (Elementary Education)