Driver Education Program (ages 15-21)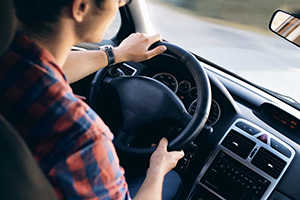 The Rogue Community College Driver Education Program provides teens with the opportunity to acquire the needed skills to be safe, competent drivers throughout their lives. We are committed to excellence both in the classroom and behind-the-wheel. Our ODOT approved traffic safety course consists of 30 hours of classroom instruction and 12 hours in the car (6 hours behind-the-wheel and 6 hours of observation). In-car instruction is scheduled between the student and the instructor, and occurs outside of the regularly scheduled class time. Please note that depending on student and instructor schedules, the final drive may not occur until after the last day of class.
Mandatory Driver Education Orientation
Parents and students are required to attend this 2-hour information and scheduling session where state law and course requirements are discussed. Students will partner with classmates and sign up for their behind the wheel driving appointments. Drive times do not coincide with classroom dates and times and drives will extend past the last scheduled classroom date.
Which class do I take?
Course # .499 High School Driver Ed Program (Ages 15-17 with Oregon Learners Permit) For students who are 15-17 years of age with a permit (not a license) throughout completion of the program. Please note that if you turn 18 or obtain your license prior to completion, you will be removed from this section and placed into the Young Adult section. Tuition rates and the certificate awarded are not the same for these students.
Course # .902 Young Adult Driver Ed Program (Ages 18-21 with Permit or License) Are you 18+ years of age, or will you turn 18+ prior to completion of the program? Do you have your license, or will you obtain your license prior to completion of the program? If so, you are required to register as a Young Adult. Young Adult students are required to pay the full cost of the course and must still take their drive test at the DMV when applying for their license.
What are the benefits of taking this program?
Students who are 15-17 years of age upon completion of the program receive a Certificate of Completion that allows them to waive their drive test at the DMV when getting their license!
Many insurance agencies offer discounts for students who have successfully completed this program
Successful students gain improved driving skills that lead to lower crash and citation rates
Reduces DMV required supervised training down to just 50 hours
Course Completion Requirements:
Complete thirty (30) hours of classroom instruction
Complete twelve (12) hours of in-car instruction, consisting of six (6) hours behind-the-wheel and six (6) hours of observation
Complete five (5) documented hours of supervised home practice
Complete coursework with a cumulative score of 80% or better
Successfully pass the in-class final written and final drive test with scores of 80% or better