Service Learning
Get College Credit for Community Service!
Earn between 1-6 elective credits for working on community service projects.
Projects can be on- or off-campus
from a list of projects provided by RCC, or design your own<
Credits may count as electives for transfer degrees (AGS or AAOT)
What is Service Learning?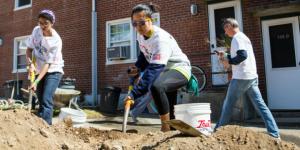 Service Learning offers a unique opportunity for RCC students to develop a personal understanding of what it means to be actively involved and engaged within the local community. Service Learning increases students' understanding of others, awareness of community needs and helps develop cross-cultural awareness. Being involved in the community also helps students to prepare for the work place and gain real life experience that is valuable to employers.
Possible Projects Include:
Literacy Programs
Shelter/Housing
Food Banks
Sustainability/Conservation
Animal Shelters
Working with Seniors
Design Your Own
Service Learning - SRV101, is available, sign up now!*
Prerequisites: RD90, WR90 or WR91, MTH20
The American Association of Community Colleges definition of Service Learning:
"Service learning combines community service with academic instruction, focusing on critical reflective thinking and personal and civic responsibility. Service Learning programs involve students in activities that address community-identified needs, while developing their academic skills and commitment to their community."
*Plan ahead! You must meet the faculty advisor and get approval to register for Service Learning prior to the beginning of the term you wish to enroll.